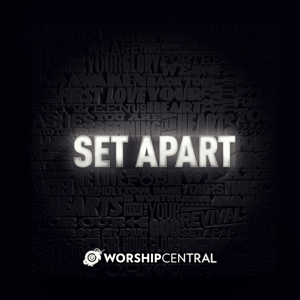 Integrity Music has released "Set Apart" through Integrity Music and all songs are now loaded into WorshipTeam.com Set Apart" is a live recording of some great new songs.
Set Apart is a passionate follow-up to Worship Central's critically acclaimed album Let It Be Known, which was described by Worship Leader magazine as a "must have" and tapped as the magazine's No. 1 "Editor's Pick" for worship albums in 2013.
With Set Apart, Worship Central director Tim Hughes ("Here I Am To Worship") and team members Ben Cantelon ("Love Came Down"), Nikki Fletcher ("All Glory") and Luke Hellebronth ("Spirit Break Out") deliver a new set of songs written both in and for the Church. The album also features guest co-writers including Dove Award nominee Benji Cowart and GRAMMY Award nominee Jason Ingram.
The resulting tracklist takes listeners from joy-filled praise to intimate moments of worship with songs like "Stand Up," a rousing call for unity, and the promise-filled "Dead Things To Life." The song "Enough Light" is a faith-building, slow burning anthem of encouragement while the songs "Let Go" and "The Way" are fuel for the journey, and the title track reminds believers that they are "Set apart for our God above, set apart for the One we love."
The album ends with the ideal benediction, the prayerful song "Singing Over Us," a nod to Zephaniah 3:17, followed by the spontaneous worship song, "Wide Open Spaces," led by Tim Hughes. As the album closes, listeners hear Hughes declaring: "God is calling us to be his good news, God is calling us to be his love to a broken world… to a fatherless generation."
All songs are loaded and ready to use- just access your WorshipTeam.com system database.
The songs are full featured with complete lyrics, chord charts and full length audio. Check out these great new songs, hear them in the original key, or choose your own key and play it the way you like it.
blessings
Cody Gentes
p.s. if you have never tried out Worshipteam.com, try it FREE for one month by simply going here: http://www.worshipteam.com/try ! See you there.