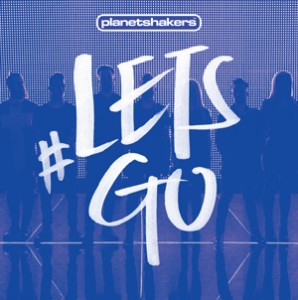 Planetshakers has released "#LetsGo" through Integrity Music and all songs are now loaded into WorshipTeam.com "#LetsGo" is a live recording of some great new songs.
In partnership with Integrity Music and Daystar Television Network, Planetshakers is gearing up for a unique launch event unlike anything they have attempted before in celebration of their new album #LETSGO, which releases Sept. 11. At the heart of the new CD is a challenge, a dare to listeners to see what is possible when they boldly follow God. This message is being taken to the world with Planetshakers LIVE!, broadcasting internationally Monday, Sept. 21, at 8:30 pm ET on Daystar Television Network, which reaches into 108 million homes in the US, 10 million homes in Canada and 700 million homes worldwide – a potential viewing audience of over 2 billion people.
A 90-minute special featuring new music from #LETSGO and personal "Let's Go" stories in front of a live, invitation-only audience in Dallas, TX, Planetshakers LIVE! will be hosted by Brian Carn and John Gray (from Joel Osteen's Lakewood Church), as well as feature special guest, Gospel recording artist Tasha Cobbs.
A truly global event, the broadcast will also be simulcast live to a free "Watch Party" held halfway around the world at the Church of God Dasmariñas in the Philippines, Tuesday, Sept. 22 at 8:30 am PHT. In addition to this event, the Planetshakers Live! partners are teaming up to give away #LETSGO to the live audience in the Philippines: for every album purchased on the day of the event, one will be given to an attendee in the Philippines.
The "Watch Party" location was chosen after Planetshakers heard stories of concert attendees who made significant sacrifices just to be able to travel to see them in concert.
"It is inspiring, and simultaneously heartbreaking, to hear countless stories of people skipping meals so they can travel to one of our events," shares Joth Hunt, Planetshakers worship leader, guitarist, and producer. "It's hard to imagine someone doing that, but it just goes to show that their souls are more hungry than their bodies. That's why we wanted to put on this special 'watch party' just for the people of the Philippines." All songs are loaded and ready to use- just access your WorshipTeam.com system database.
The songs are full featured with complete lyrics, chord charts and full length audio. Check out these great new songs, hear them in the original key, or choose your own key and play it the way you like it.
blessings
Cody Gentes
p.s. if you have never tried out Worshipteam.com, try it FREE for one month by simply going here: http://www.worshipteam.com/try ! See you there.