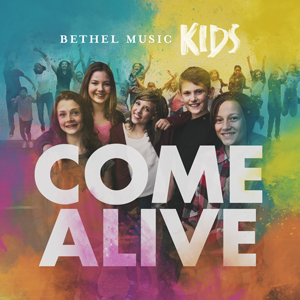 Bethel Music Kids has released "Come Alive" through Bethel Music and all songs are now loaded into WorshipTeam.com "Come Alive" is a recording of some great new songs.
As Bethel Music introduces their new brand for kids with the debut album, Come Alive, they invite the next generation to experience worship and live in wonder of God. With reimagined songs meant to get kids dancing and praising in every hour of the day, the high-energy worship is ready to kindle fire in a whole new audience.
While the idea of a Bethel brand directed for kids has been simmering for several years, it truly emerged on the foundation of worship already present in the community. Kiley Goodpasture, Creative Director, explained that the children are being raised in an environment where they understand God's presence and they understand how to celebrate with each other in a pure and profound way. When Bethel began to consider making this dream a reality, they did not have to manufacture something; they simply captured what was already happening in the worlds of these kids. With stories, props, lighting, colors, and all the lively surprises woven through the songs, Bethel celebrates the idea that when something is authentic, it is naturally moving.
The performers themselves – singers and dancers – made the project a success. Bethel Music is a branch of Bethel Church, and all of the kids that participated were friends from the local church. Bethel hosted two different audition days for the dancers and ended up with thirty-three kids whose friendships grew through the worship and recording of this project. All songs are loaded and ready to use- just access your WorshipTeam.com system database.
The songs are full featured with complete lyrics, chord charts and full length audio. Check out these great new songs, hear them in the original key, or choose your own key and play it the way you like it.
blessings
Cody Gentes
p.s. if you have never tried out Worshipteam.com, try it FREE for one month by simply going here: http://www.worshipteam.com/try ! See you there.