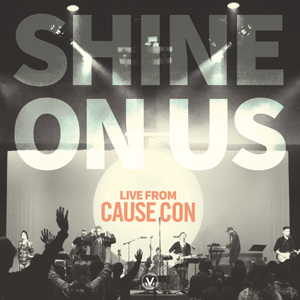 Vineyard Worship has released "Shine On Us: Live From Cause Con" through Vineyard Worship and all songs are now loaded into WorshipTeam.com "Shine On Us: Live From Cause Con" is a live recording of some great new songs.
SHINE ON US was recorded LIVE at Cause Con 2016, a 3-day catalytic conference launching young adults further into God's kingdom calling on their lives. Over 500 from across the
US converged in Kansas City, MO to worship, connect, inspire, and engage in something bigger than themselves: a #Cause2Live4.
Vineyard worship leaders Tim Brown (Canyon View Vineyard, Grand Junction, CO), Kyle Howard (Vineyard Church,Mahomet, IL), Anabeth Morgan (Mile High Vineyard, Denver,CO) and Sarah Pemberton (Nashville Vineyard, Nashville, TN)
led vibrant, spirited worship, introducing 4 NEW songs -including the album's title track – that became the anthems for these young risk-takers.
Produced by Mike O'Brien (Miami Vineyard Live, Not Be Moved), SHINE ON US is a dynamic new record capturing the passionate worship of this transforming event, and inspiring
emerging voices and melodies everywhere! All songs are loaded and ready to use- just access your WorshipTeam.com system database.
The songs are full featured with complete lyrics, chord charts and full length audio. Check out these great new songs, hear them in the original key, or choose your own key and play it the way you like it.
blessings
Cody Gentes
p.s. if you have never tried out Worshipteam.com, try it FREE for one month by simply going here: http://www.worshipteam.com/try ! See you there.