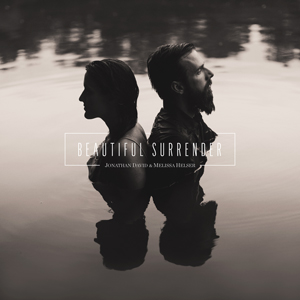 Jonathan David & Melissa Helser has released "Beautiful Surrender" through Bethel Music and all songs are now loaded into WorshipTeam.com "Beautiful Surrender" is a recording of some great new songs.
Worship leaders and songwriters Jonathan David & Melissa Helser internationally release their eighth recording and first new album in four years, Beautiful Surrender, Sept. 30 from Bethel Music and through Provident Distribution. Widely recognized for their 2016 "Song" and "Worship Song of the Year" GMA Dove Award-nominated hit single "No Longer Slaves," which is featured as a bonus song on the new album, the upcoming project marks the duo's first studio release as part of the Bethel Music Artist Collective. The album invites listeners to find true joy in surrender without reservation to God.
Recording Beautiful Surrender in Nashville, TN with Grammy Award-winning, four-time Gospel Music Association Dove Award-winning "Producer of the Year," Ed Cash, who also co-wrote several songs on the album, the husband and wife duo trade lead vocals across the album's tracks. They also decorate each arrangement with intricate harmonies along with instrumentation from their band, the Cageless Birds.
Writing or co-writing all the songs, the Helser's weave an intentional tapestry of the core message into the new album, redefining surrender for this generation.
"Surrender is to cease resistance, yield control and give oneself up to the power of another. When you find the One your heart loves, surrender is a beautiful, effortless fall – not a duty or a task," the couple shares. "When Jesus said 'follow me,' they saw everything they ever wanted and joyfully surrendered all they had. What would it look like to truly surrender without reservation, without caution, and give in fully not to an idea of God, but to God himself?" All songs are loaded and ready to use- just access your WorshipTeam.com system database.
The songs are full featured with complete lyrics, chord charts and full length audio. Check out these great new songs, hear them in the original key, or choose your own key and play it the way you like it.
blessings
Cody Gentes
p.s. if you have never tried out Worshipteam.com, try it FREE for one month by simply going here: http://www.worshipteam.com/try ! See you there.