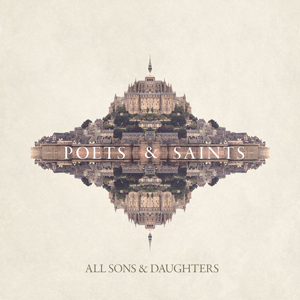 All Sons & Daughters has released "Poets & Saints" through Integrity Music and all songs are now loaded into WorshipTeam.com "Poets & Saints" is a recording of some great new songs.
Grammy and Dove Award nominated worshipers All Sons & Daughters, acclaimed author and pastor Jamie George and a film crew ventured to Europe to trace the lives of C.S. Lewis, Saint Patrick, John Newton, Saint Thérèse, Saint Francis, William Cowper, Saint Augustine, George MacDonald and others, mining for undiscovered gems, something to connect these individuals to modern believers. The resulting epic journey into the lives and stories of these Christ-followers that God used to wake up the world, Poets & Saints, releases from Integrity Music and David C Cook.
All Sons & Daughters' fourth full-length album, Poets & Saints, was produced by Chad Copelin (Crowder, Gungor) and mixed by Shane Wilson (Brandon Heath, Vertical Church Band) and Sean Moffitt (Newsboys, Jordan Feliz). Alongside the album is Jamie George's book, Poets and Saints: Eternal Insight, Extravagant Love, Ordinary People, and the video-based curriculum and study guide, Poets & Saints: A Community Experience, which George and All Sons & Daughters members David Leonard and Leslie Jordan collaborated on to create. Together these resources form an interactive worship experience that introduces 10 important influencers in Christendom, while making a very human connection between their lives and the lives of Christians today. All songs are loaded and ready to use- just access your WorshipTeam.com system database.
The songs are full featured with complete lyrics, chord charts and full length audio. Check out these great new songs, hear them in the original key, or choose your own key and play it the way you like it.
blessings
Cody Gentes
p.s. if you have never tried out Worshipteam.com, try it FREE for one month by simply going here: http://www.worshipteam.com/try ! See you there.