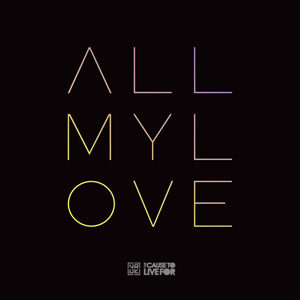 Vineyard UK has released "All My Love (Live From The Cause To Live For 2016)" through Vineyard Records UK and all songs are now loaded into WorshipTeam.com All My Love (Live From The Cause To Live For 2016)" is a live recording of some great new songs.
rare to hear worship captured the way it really was in the moment, but All My Love does just that. The resulting recording is raw, raucous in parts, but real and more beautiful for that. Clocking in at 67 minutes this 6-track recording is just like an original long play. Worship leaders are Samuel Lane (St Albans Vineyard) and Susanne Courtney (Manchester Vineyard). Samuel has an extraordinary anointing for worship coupled with an equally extraordinary voice. He is someone who will not settle in worship, but will always seek the place of intimacy. The title track All My Love is written by him and Joe Blustin and is a hugely affecting song which speaks of recognizing what God has done for us and knowing what our response should be to Him. It is a song which carries a real anointing. Samuel led it at David's Tent earlier this year and there was a profound outpouring of the Spirit in that moment. Similarly, on this recording you will hear a whole congregation singing at the top of their lungs as they simply declare, "All my love, All my love, All my love is Yours, my love." Alongside All My Love is another new song from Samuel called Saved plus new recordings of Our Father (Meier), Great Are You Lord (All Sons & Daughters) and Pour It Out (Lane/Lampert). Also a beautiful version of United Pursuit's Simple Gospel taken from the ministry time at the end of the night. This is not an album that sounds like many other worship albums. It's not been fixed and over-dubbed but more importantly you can really hear people singing. On the night there were hundreds of young people abandoned in praise to Jesus, dedicating their lives to him and that passion can clearly be heard. All songs are loaded and ready to use- just access your WorshipTeam.com system database.
The songs are full featured with complete lyrics, chord charts and full length audio. Check out these great new songs, hear them in the original key, or choose your own key and play it the way you like it.
blessings
Cody Gentes
p.s. if you have never tried out Worshipteam.com, try it FREE for one month by simply going here: http://www.worshipteam.com/try ! See you there.