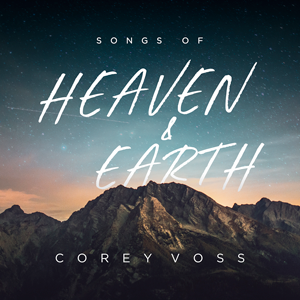 Corey Voss has released "Songs Of Heaven And Earth" through Integrity Music and all songs are now loaded into WorshipTeam.com "Songs Of Heaven And Earth" is a recording of some great new songs.
The album, Voss' full-length debut, explores the transformative power of praise, celebrating the Creator with lyrical imagery drawn from scripture and inspired by His creation.
Songs Of Heaven & Earth follows the critically acclaimed Songs of Heaven & Earth digital EP from Voss, the writer behind Selah's radio hit "I Got Saved." Voss includes "I Got Saved" and another favorite, "Praise The King," on Songs Of Heaven & Earth while his voice also showcases the work of other noteworthy writers and collaborators. This includes the church-ready, Dove Award nominated "God Who Moves The Mountains" from Dustin Smith, Richie Fike and David Leonard (All Sons & Daughters) and "As It Is In Heaven" penned by Voss' label mates Alisa Turner and Michael Farren who guest on the song.
In addition, Dove Award winning writers Krissy Nordhoff and Jennie Lee Riddle, country artist Crystal Yates, newcomer Rhyan Shirley and Voss' producer, Kyle Lee (Leeland, Bryan & Katie Torwalt) co-author songs.
All songs are loaded and ready to use- just access your WorshipTeam.com system database.
The songs are full featured with complete lyrics, chord charts and full length audio. Check out these great new songs, hear them in the original key, or choose your own key and play it the way you like it.
blessings
Cody Gentes
p.s. if you have never tried out Worshipteam.com, try it FREE for one month by simply going here: http://www.worshipteam.com/try ! See you there.