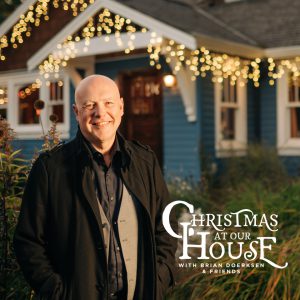 WorshipTeam.com is excited to partner with Brian Doerksen (writer of 'Come Now Is The Time To Worship', 'Faithful One') to bring you 'Christmas At Our House with Brian Doerksen & Friends.' This is a professionally produced 1 hour 'TV Style' Christmas special containing live acoustic performances of Brian's JUNO nominated album 'The Heart of Christmas' with his band and special guests in front of the fireplace in his studio space. These songs and carols are woven together with scenes in his house, sharing the Christmas story with friends, the Siewert family, who've been in a small Covid bubble together since spring. In addition the special features Brian's father Harry Doerksen sharing Christmas memories from his childhood and some of the shenanigans Brian and his brother pulled when they were just boys. It's heartwarming, at times funny and full of peace and love. It's just what we need this Christmas.
Songs included are 'Just Before The Silent Night', 'Magical Lights' & 'Hope Of The Nations (Christmas Edition)'
Trailer https://youtu.be/E3BKgWSDmhk
Link to register and watch:
Brian Doerksen – Christmas At Our House
We believe that this special will be a real encouragement in a Christmas unlike any in living memory. We can't gather together in public places or our churches to sing our Christmas songs together, however we still can share in the story and the songs of Christmas through 'Christmas At Our House with Brian Doerksen & Friends.'
P.s. The special airs on Sunday Dec 20 starting at 12 Noon PST (3 PM EST) and all registered can watch the special for that full Christmas week through the evening of Sunday Dec 27. You can watch the special with your immediate household as many times as you like during that week.