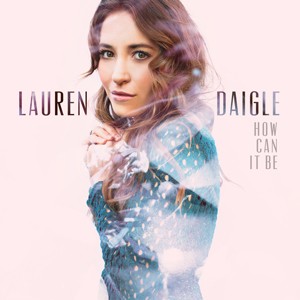 Lauren Daigle has released "How Can It Be" through Centricity Music and all songs are now loaded into WorshipTeam.com "How Can It Be" is a recording of some great new songs.
"It is such a fulfilling feeling to see the release of Lauren's debut project. This has been the culmination of nearly three years of work," states Steve Ford, Vice President of Marketing, Centricity Music. "We first discovered her unique talent and spirit at an artist retreat in Washington in the spring of 2012. It was at that moment we knew we wanted to work with her. Lauren has worked hard to develop as a songwriter and an artist, with the evidence of that hard work showcased in the stunningly, beautiful How Can It Be project."
The story of How Can It Be started on July 11, 2014, when the title track was released to radio. "How Can It Be" resonated with fans, radio and the press, who unanimously connected with Daigle's soulful and powerhouse vocals and led to comparisons to Adele and Amy Winehouse. The single still remains active in the Top Ten on Billboard's Christian Singles chart, after peaking at No. 7 on the NCA chart, No. 8 on the AC Monitored chart and No. 7 on the AC Indicator chart. In 2014, the single reached No. 1 on the iTunes Christian Singles Chart and continues to top that download chart. It was also named by iTunes as one of the Top Christian songs last year. At the same time, the EP How Can It Be reached No. 1 on iTunes Christian Albums Chart and was named one of the Top 20 Christian releases in 2014 by the online retail outlet. Daigle also achieved her first music industry awards show nomination from the K-LOVE Fan Awards for Worship Song of the Year. All songs are loaded and ready to use- just access your WorshipTeam.com system database.
The songs are full featured with complete lyrics, chord charts and full length audio. Check out these great new songs, hear them in the original key, or choose your own key and play it the way you like it.
blessings
Cody Gentes
p.s. if you have never tried out Worshipteam.com, try it FREE for one month by simply going here: http://www.worshipteam.com/try ! See you there.