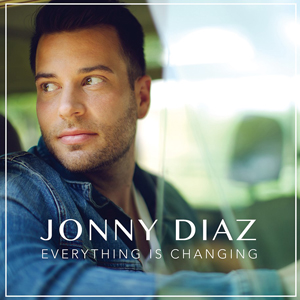 Jonny Diaz has released "Everything Is Changing" through Centricity Music and all songs are now loaded into WorshipTeam.com "Everything Is Changing" is a recording of some great new songs.
Nashville, Tenn. (September 9, 2015) —- Singer-songwriter, Jonny Diaz, will release his second project for Centricity Music, Everything Is Changing, September 18th. The majority of the album was produced by Chad Copelin, with Josh Bronleewe (David Dunn, Ginny Owens) producing "Enough In You," and Jeff Pardo (Mandisa, Salvador) "Joy." Diaz co-wrote all six songs on the new EP, and the first single is "Breathe." The song spotlights the hectic pace of Diaz's life that includes the birth of his first child, Charlie Grace, and helping his wife, Libby, open a fitness studio in Nashville. All of this swirled around Diaz while he was on a 40-city tour and co-writing sessions for the new record.
"I just felt so overwhelmed with everything life was throwing at me" admits Diaz, "and when I had to co-write during this time it was stressful. However, I gained a peaceful state during recording Everything Is Changing, as I embraced my calling since this is where God has led me. I don't have all the answers and not everything is going to be perfect, but there's still joy down in my soul."
Everything Is Changing opens with "Enough In You," showing the strength of God, while the most upbeat song on the album, "Joy," announces the happiness of a faith-filled life. The anthem song, "Chance," heralds the peace of the Lord during hardships, and the project closes with a song for Charlie Grace, "All Because Of You." The balance between being a new father and provider is the same struggle all parents face, but can be handled with God as the guide. The truth is too much time can just get boring/And I don't really need a sporty car/And I used to say that I would like to see the world/Now my world is right here sleeping in my arms. All songs are loaded and ready to use- just access your WorshipTeam.com system database.
The songs are full featured with complete lyrics, chord charts and full length audio. Check out these great new songs, hear them in the original key, or choose your own key and play it the way you like it.
blessings
Cody Gentes
p.s. if you have never tried out Worshipteam.com, try it FREE for one month by simply going here: http://www.worshipteam.com/try ! See you there.