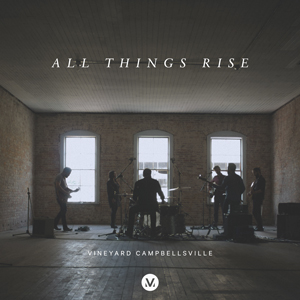 Vineyard Campbellsville has released "All Things Rise" through Vineyard Worship and all songs are now loaded into WorshipTeam.com "All Things Rise" is a recording of some great new songs.
All Things Rise is the second release birthed out of the creative collective of Vineyard Campbellsville (Campbellsville, KY). Produced by Emmy award winner Bobby Hartry (Jeremy Riddle, John Barnett, Marie Barnett, Daena Jay, Moxie), All Things Rise features Campbellsville worship leaders Sam Crabtree, Hannah Daugherty and Erica Sharlow in a powerful display of a
close community sharing in worship, proclamation and the ministry of the Father, Son, and Holy Spirit. All songs are loaded and ready to use- just access your WorshipTeam.com system database.
The songs are full featured with complete lyrics, chord charts and full length audio. Check out these great new songs, hear them in the original key, or choose your own key and play it the way you like it.
blessings
Cody Gentes
p.s. if you have never tried out Worshipteam.com, try it FREE for one month by simply going here: http://www.worshipteam.com/try ! See you there.