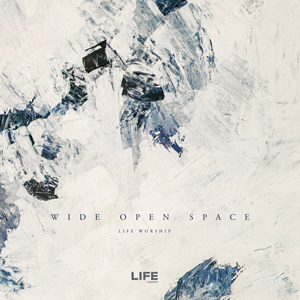 Life Worship has released "Wide Open Space" through Integrity Music and all songs are now loaded into WorshipTeam.com "Wide Open Space" is a live recording of some great new songs.
Integrity Music announces the May 27 global release of Wide Open Space, a new 12-track, live worship album from LIFE Worship, the worship ministry team of LIFE Church based in Bradford, England.
The album, which follows LIFE Worship's critically acclaimed 2014 release Dance Again, is a celebration of adventure and a call to the wild edges of God's grace where impossible things happen and where His children are caught up in the mystery of His will.
"Wide Open Space came from a time of healing in my life where God was challenging me to be all He has called me to be, and to let His Spirit bring some dreams into reality," recalls LIFE Worship songwriter and worship leader Matt Hooper (cowriter of the Newsboys' #1 hit "We Believe"). "The song 'Wide Open Space' is me asking God to take me on the grace adventure, to fulfill the potential that God has given me and have fun doing it!"
Hooper points to Romans 5 as the scriptural basis for the entire album: "We throw open our doors to God and discover at the same moment that He has already thrown open His door to us. We find ourselves standing where we always hoped we might stand—out in the wide open spaces of God's grace and glory, standing tall and shouting our praise." [Romans 5, 1-2, The Message]
Hooper, an associate pastor for LIFE Church, is a featured vocalist on the album along with LIFE's worship leaders Mike Harvie, Eby Corydon, Chelsea Carins, Ryan Carins, Aaron Baxter and worship pastor Jock James. The songs on Wide Open Space were penned by LIFE team members, along with guest writers including Benji Cowart and Chris Sayburn. All songs are loaded and ready to use- just access your WorshipTeam.com system database.
The songs are full featured with complete lyrics, chord charts and full length audio. Check out these great new songs, hear them in the original key, or choose your own key and play it the way you like it.
blessings
Cody Gentes
p.s. if you have never tried out Worshipteam.com, try it FREE for one month by simply going here: http://www.worshipteam.com/try ! See you there.