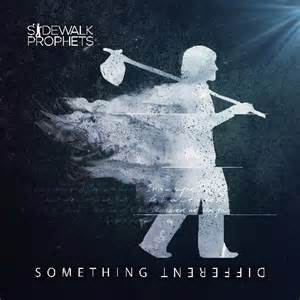 Sidewalk Prophets has released "Something Different" through Fervent Records and all songs are now loaded into WorshipTeam.com "Something Different" is a recording of some great new songs.
CCM and worship favorites Sidewalk Prophets follow their best-selling live release with a fourteen track set of engaging original songs rooted in Scripture. Produced by studio ace Seth Moseley, Something Different adds urgency and immediacy to Sidewalk Prophets' signature sounds, including the soaring lead single "Prodigal", torch-song ballad "To Live Is Christ", the anthemic, stomp-clap title track, and more. In moments of great joy, there's something different about us.
In moments of deep sorrow, there is something different about us. When we're knocked down, cast out, and the odds seem insurmountable, there is something different about us. When life feels impossible, there is something different about us. We go through trials with our heads up. We battle sickness knowing where true strength comes from. We shine love recklessly through the darkness knowing all the while that there is in fact something different about us and that something is Jesus Christ. SOMETHING DIFFERENT is an unashamed declaration that Jesus Christ is the way, truth, and the life. We stand together armed with true love, the greatest weapon against the darkness. – Sidewalk Prophets. All songs are loaded and ready to use- just access your WorshipTeam.com system database.
The songs are full featured with complete lyrics, chord charts and full length audio. Check out these great new songs, hear them in the original key, or choose your own key and play it the way you like it.
blessings
Cody Gentes
p.s. if you have never tried out Worshipteam.com, try it FREE for one month by simply going here: http://www.worshipteam.com/try ! See you there.