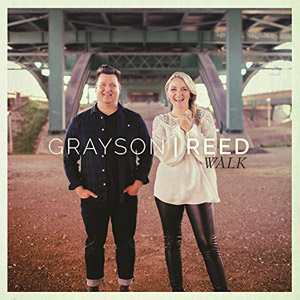 Grayson/Reed has released "Walk" through Centricity Music and all songs are now loaded into WorshipTeam.com "Walk" is a recording of some great new songs.
Husband and wife duo, Grayson|Reed, will release their first project for Centricity Music, Walk, on January 13, 2017. The six-song EP will be available at all online music outlets, with a nine-song version of the record only being sold at Grayson|Reed concerts. Besides the amazing talents of Mike Grayson (Mikeschair) and Molly Reed (City Harbor), numerous producers took part in creating this project including Justin Ebach, Ben Glover, Jeff Pardo and Seth Mosley. Grayson|Reed co-wrote all the original material, including their new single, "Fight For You," that is already No. 14 on Billboard's Soft AC chart. The song honestly faces the issues of being married, and how leaning on God helps couples get through the rough parts. I'm gonna fight for you/Nothing's ever gonna burn this down/I'm gonna fight for you/Til the breath in my lungs runs out/Our love is something I don't wanna lose/So every single day I'm gonna choose/I'm gonna fight for you.
"The MOST INSTANT REACTION I have ever seen to a song in our format. More than even Hillsong United's single, "Oceans (Where Feet May Fail)," said Rob Wagman, Director of Network Programming, Way Media. "The institution of marriage is under serious spiritual attack, and with God and songs like this, broken marriages will find themselves restored."
Reed added, "It's so unfortunate, but in today's culture, the days that it doesn't look like a movie—which are most days—people are like, 'Oh, this isn't right. We'll just run away. Let's not do this. I don't want to deal with it.' But the reality of love and a God-ordained marriage is you fight through those moments together, and you fight for that person and for their heart."
Grayson|Reed delivers a solid project with seamless vocals and musicianship, which is powerfully showcased on the upbeat title track, while "Bloom" is a song written about and for their daughter Grailey. "Can't Get Enough" is a Nashville influenced tune that displays the diversity of these talented artists. The project is rounded out with two powerful ballads, "Be Revealed" and "How This Ends." All songs are loaded and ready to use- just access your WorshipTeam.com system database.
The songs are full featured with complete lyrics, chord charts and full length audio. Check out these great new songs, hear them in the original key, or choose your own key and play it the way you like it.
blessings
Cody Gentes
p.s. if you have never tried out Worshipteam.com, try it FREE for one month by simply going here: http://www.worshipteam.com/try ! See you there.