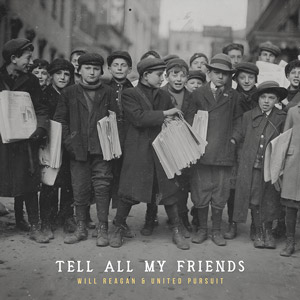 Will Reagan & United Pursuit has released "Tell All My Friends" through United Pursuit Records and all songs are now loaded into WorshipTeam.com "Tell All My Friends" is a recording of some great new songs.
Will Reagan is a Christian singer/songwriter based in Knoxville, Tennessee. With his quiet acoustic guitar picking and plaintive voice, his worship songs are largely folk-driven. In 2006, he and several other like-minded songwriters and players formed a musical collective called United Pursuit. The group members perform each other's songs and release independent albums under the collective's umbrella. Reagan released his solo debut, Beginning to Love You, in 2006 followed by 2009's In the Night Season, which was credited to Will Reagan & United Pursuit. His next two albums, Live at the Banks House (2010) and Endless Years (2012), were also made with the collective. The group's second live album, 2015's Simple Gospel, earned a high spot on Billboard's Christian chart, and Tell All My Friends followed in early 2017. All songs are loaded and ready to use- just access your WorshipTeam.com system database.
The songs are full featured with complete lyrics, chord charts and full length audio. Check out these great new songs, hear them in the original key, or choose your own key and play it the way you like it.
blessings
Cody Gentes
p.s. if you have never tried out Worshipteam.com, try it FREE for one month by simply going here: http://www.worshipteam.com/try ! See you there.