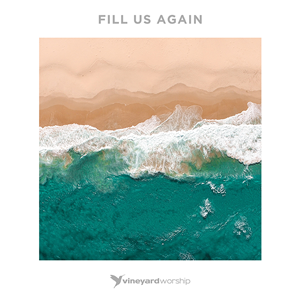 Vineyard Worship has released "Fill Us Again" through Vineyard Worship UK & Ireland and all songs are now loaded into WorshipTeam.com "Fill Us Again" is a live recording of some great new songs.
Fill Us Again is the new live album from Vineyard, recorded at The Cause to Live For and the Vineyard National Leaders' Conference. Featuring new songs from Dave Miller, Andy Hatherly & Bernie Ditima (Trent Vineyard) and Samuel Lane (St Albans Vineyard), Fill Us Again is the first live album from Vineyard UK & Ireland for three years and is well worth the wait. With authentic lyrics and beautiful melodies, this album captures the latest Vineyard songs from around the world in a live setting. The fresh new songs from Vineyard UK & Ireland sit alongside Vineyard New Zealand's 'Coming Alive', Vineyard USA's 'Kyrie Eleison' and two worship anthems from Bethel Music and Jeremy Riddle.
The title track declares:
Like a fire, like a flood, like a wind, like a dove Would you come, like you have before O Spirit of the living God Come and fall afresh on us, we know that there's always more.
As we see on the cover art, the tide is rising; dry land is being revived. Come, Holy Spirit, and fill us again.
From these two national events, Vineyard Worship captured the sound of Vineyard churches gathered as one tribe; with students and young adults at The Cause to Live For, and leaders from England, Wales, Scotland, Northern Ireland and Ireland at the Vineyard National Leaders' Conference.
We hope that these songs help you as you seek to pursue a life of authentic worship.
In 1998 Vineyard released their first album, the best-selling Come, Now Is The Time. 20 years and 52 releases later, Vineyard continue to press into intimate worship with new voices and a fresh sound for 2018.
All songs are loaded and ready to use- just access your WorshipTeam.com system database.
The songs are full featured with complete lyrics, chord charts and full length audio. Check out these great new songs, hear them in the original key, or choose your own key and play it the way you like it.
blessings
Cody Gentes
p.s. if you have never tried out Worshipteam.com, try it FREE for one month by simply going here: http://www.worshipteam.com/try ! See you there.