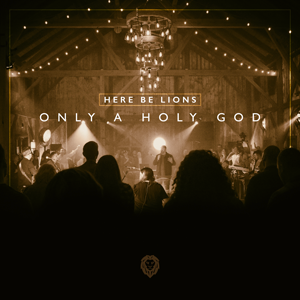 Here Be Lions has released "Only A Holy God" through Integrity Music and all songs are now loaded into WorshipTeam.com "Only A Holy God" is a live recording of some great new songs.
Integrity Music welcomes the Nashville, Tennessee-based collective Here Be Lions founded by pastor, worship leader and songwriter Dustin Smith ("God Who Moves The Mountains," "Miracles").
Here Be Lions takes its name from the ancient mapping tradition in which explorers marked unknown, dangerous territory with a symbol and the phrase "Here Be Lions." Originally meant as a warning, the phrase has become a call for the Here Be Lions team to advance God's kingdom and authority. They do so through focusing on discipleship, music and community with three ministry outreaches: Be Fierce, a discipleship resource for families, All About Worship, a worship resource for churches, and Healing Is Right, a resource for the sick and hurting.
The Here Be Lions worship team, including Smith, his wife Jeanna, James Galbraith, Jordan Clause, Jeremy Weedman and Garner McGregor, aspires to create music that welcomes the power and presence of God in expectation of salvation, healing and restoration. Only A Holy God delivers 12 songs of reverence and repentence written around the character of God and the forgiveness and wholeness found in Jesus.
Working with producer Jacob Sooter (Vertical Worship), Here Be Lions recorded the album live with guest vocalist Amanda Kinner and a small group of worshipers at Weston Barn near Kansas City, Missouri. Songwriters for the project include Smith, members of the HBL team and guest writers Sooter, Stu G (Delirious?), Joshua Silverberg (The Belonging) and Chris Quilala (Jesus Culture).
"Take us into the Holy of Holies, into the place where kings take off their crowns.
We're overwhelmed by the weight of Your glory. You're lifted higher as every knee bows down…"
"Only A Holy God is the sound of a people declaring that the God of miracles is still at work today," says Smith. "Who else can heal? Who else can set people free? Who else can raise the dead to life? Only a Holy God! Our hope is that this would be an anthem for the most powerful voice on the planet… His church."
All songs are loaded and ready to use- just access your WorshipTeam.com system database.
The songs are full featured with complete lyrics, chord charts and full length audio. Check out these great new songs, hear them in the original key, or choose your own key and play it the way you like it.
blessings
Cody Gentes
p.s. if you have never tried out Worshipteam.com, try it FREE for one month by simply going here: http://www.worshipteam.com/try ! See you there.