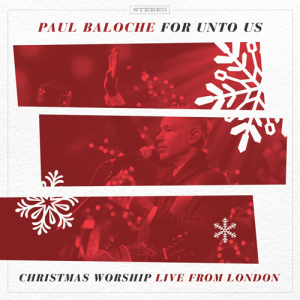 Paul Baloche has released "For Unto Us" through Integrity Music and all songs are now loaded into WorshipTeam.com "For Unto Us" is a live recording of some great new songs.
A worship pastor for over 20 years, Baloche created these unique arrangements to serve both worship teams and individual listeners, focusing them on the Christ of Christmas throughout the "busyness" of the holidays. The resulting songs create an environment familiar to both congregants and visitors during holiday services.
"While we love the content of traditional Christmas songs, they rarely facilitate a vertical expression of worship towards the Lord," explains Baloche, writer of worship standards "Open The Eyes Of My Heart," "Your Name" and "A New Hallelujah." "The idea behind the Christmas Worship projects has been to combine the carols we enjoy with modern worship choruses that encourage worship all throughout the season."
"With For Unto Us, I wanted to offer a live version of favorites from my previous albums along with the song 'Peace On Earth'," he continues. "These songs, performed in a live setting, demonstrate the accessibility to worship teams of all sizes, providing them with options that fit a variety of Advent service needs."
The 10-track album seamlessly melds classic Christmas hymnody from composers such as Charles Wesley, Felix Mendelssohn and Isaac Watts with the writing of Baloche and other contemporary writers including Brenton Brown, Jason Ingram and Kathryn Scott.
All songs are loaded and ready to use- just access your WorshipTeam.com system database.
The songs are full featured with complete lyrics, chord charts and full length audio. Check out these great new songs, hear them in the original key, or choose your own key and play it the way you like it.
blessings
Cody Gentes
p.s. if you have never tried out Worshipteam.com, try it FREE for one month by simply going here: http://www.worshipteam.com/try ! See you there.