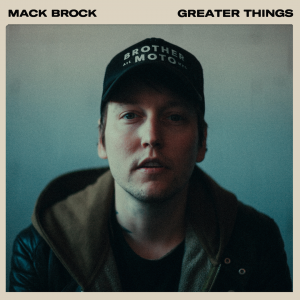 Mack Brock has released "Greater Things" through Sparrow Records and all songs are now loaded into WorshipTeam.com "Greater Things" is a recording of some great new songs.
Veteran worship leader, singer-songwriter and new Capitol CMG recording artist Mack Brock will release his first-ever solo studio project. The brand-new, nine-track album consists of digital songs inspired by God's continued faithfulness throughout challenging seasons.
Last year, after a decade of being on staff, leading worship and producing the albums of Elevation Worship, Brock felt that the Lord was ending his assignment at Elevation Church and made the difficult decision to peacefully resign. Having no inclination as to where the Lord was leading next, he was able to spend time reflecting and writing and then, unexpected to him, began a new season as a solo artist. With lyrics that are relatable to so many, Greater Things considers what it means to step into the unknown by faith, believing for something, even when what is to come has yet to be seen.
"Knowing God was changing my assignment from being on staff at Elevation Church to something new and different was honestly terrifying," says Brock. "Not knowing what's next and stepping out in faith can be terrifying for all of us, but we serve a good God, a big God who doesn't leave us or forsake us. I'm learning that it's far more terrifying to not walk in obedience than it is to take that step into the unknown. This album has helped me with that journey. The songs on this project have been reminders to me of God's faithfulness and of His never-ending love for us. I hope that listeners find the same encouragement as I have in this season."
All songs are loaded and ready to use- just access your WorshipTeam.com system database.
The songs are full featured with complete lyrics, chord charts and full length audio. Check out these great new songs, hear them in the original key, or choose your own key and play it the way you like it.
blessings
Cody Gentes
p.s. if you have never tried out Worshipteam.com, try it FREE for one month by simply going here: http://www.worshipteam.com/try ! See you there.