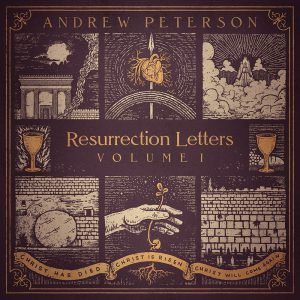 Andrew Peterson has released "Resurrection Letters, Vol. 1 " through Centricity Music and all songs are now loaded into WorshipTeam.com "Resurrection Letters, Vol. 1 " is a recording of some great new songs.
Produced by Ben Shive, Resurrection Letters, Vol. I is the prequel (think Star Wars) to the highly acclaimed album Peterson released and Shive produced in 2008, Resurrection Letters, Vol. II, which is more about the implications of Christ's resurrection victory over sin and death in our own lives. Ten years in the making, the celebratory new Vol. I is meant to move listeners to a greater gratitude, awe and love for God.
All songs are loaded and ready to use- just access your WorshipTeam.com system database.
The songs are full featured with complete lyrics, chord charts and full length audio. Check out these great new songs, hear them in the original key, or choose your own key and play it the way you like it.
blessings
Cody Gentes
p.s. if you have never tried out Worshipteam.com, try it FREE for one month by simply going here: http://www.worshipteam.com/try ! See you there.