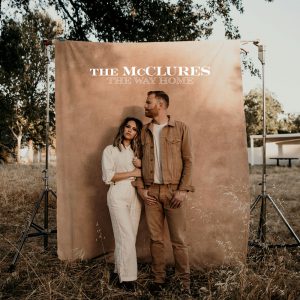 The McClures have released "The Way Home" through Bethel Music and all songs are now loaded into WorshipTeam.com "The Way Home" is a recording of some great new songs.
Bethel Music artists Paul and Hannah McClure have been writing music together since they were 16 years old in their North Carolina youth group. Years later—living in California with two children—the McClures debut their first studio album and solo project The Way Home.
Lighthearted and vibrant, this album tells the story of the McClures finding their way home when the roadmap fails. Throughout the years Paul has discovered that home is "not an address or a place—it's found inside, it is an intimate place with God and growing in relationship with family."
With the help of producer and friend David Leonard, The McClures channel their Carolina roots in this album's Americana, indie-pop style with a country flair.
Even better when they sing together, the duo's harmonies convey sweetness and charm. Through The Way Home, the McClures hope to invite listeners into their story and impart strength and joy to keep going when the road is long.
All songs are loaded and ready to use- just access your WorshipTeam.com system database.
The songs are full featured with complete lyrics, chord charts and full length audio. Check out these great new songs, hear them in the original key, or choose your own key and play it the way you like it.
blessings
Cody Gentes
p.s. if you have never tried out Worshipteam.com, try it FREE for one month by simply going here: http://www.worshipteam.com/try ! See you there.