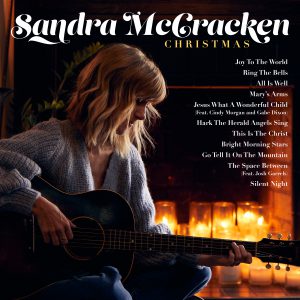 Sandra McCracken has released "Christmas" through Integrity Music and all songs are now loaded into WorshipTeam.com "Christmas" is a recording of some great new songs.
Sandra's Christmas album was recorded in the kitchen of a studio with some close friends, gathered in invitation and community to pause, sing, and rejoice in celebration of the sacred Christmas story… the coming of the light of the world, the prince of peace, the hope of all nations, our Savior and King, Jesus!
Sandra says, "I've always loved Christmas music, but making a Christmas album always felt a bit out of reach for me since my favorite Christmas albums are so timeless and the carols are so universal. I've been thinking about it for a few years; especially since my trip to Israel a couple summers ago, where I visited the birthplace of Jesus and the shepherd's field near Bethany. Once we finally got the songs together, I decided I didn't need to overthink it. I wanted to enjoy the process… to sing the sacred story of Jesus' birth."
Sandra continues, "As people listen to this record, I want them to feel invited into the room with us, like they were present when we recorded it, and moreover that this sonic welcome would be a deeper experience of knowing and believing that we are all invited into the story of Jesus' birth. We still need the light of Jesus to break into our darkness in our lives. Sometimes we need familiar melodies to remind us that we have a place where we belong… that in the broken places, in the waiting, in the hoping, we are not alone! God has come to dwell with us." Emmanuel… God with us!
All songs are loaded and ready to use- just access your WorshipTeam.com system database.
The songs are full featured with complete lyrics, chord charts and full length audio. Check out these great new songs, hear them in the original key, or choose your own key and play it the way you like it.
blessings
Cody Gentes
p.s. if you have never tried out Worshipteam.com, try it FREE for one month by simply going here: http://www.worshipteam.com/try ! See you there.