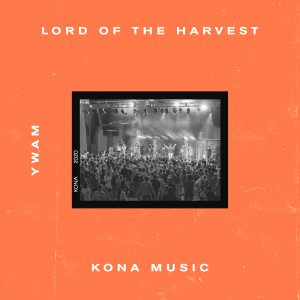 YWAM Kona Music has released "Lord Of The Harvest" featuring Lindy Cofer and the song is now loaded into WorshipTeam.com "Lord Of The Harvest" is a recording of a great new song.
YWAM Kona Music a heart-fire worship and missions movement based out of Kona, Hawaii and the Youth For A Mission (YWAM) global movement. "Lord of the Harvest," is released and features worship leader and missions' public figure Lindy Cofer (Circuit Riders, The Send, CarryTheLove). Recorded live from YWAM's largest global University of the Nations campus in Kona exactly one month before the onset of the Covid-19 pandemic.
"We're extremely excited about the songs and music movement coming out of YWAM Kona," says Aaron Barker Director of Music at YWAM Kona. "The songs that we sing, lead us to be who we are and every movement has a sound. Our sound is "The Sound of GO," the center of the mission's movement. It's the sound to multiple, the sound to send, the sound to activate hearts, mobilize missionaries and save the lost."
In February, YWAM Kona Music gathered thousands of missionaries, students and staff on their University of the Nations campus in Kona, Hawaii and recorded 13 songs. Singing at the top of their lungs shouting lyrics like, "I will preach the Gospel. I'll die and be forgotten as long as you get the glory."
"I believe God wants to pour out His heart for the harvest, pour out His heart for the lost," says worship leader Lindy Cofer. "And He's given us songs that allow us to encounter Him in that place."
"God's dream is that every nation, every tribe, every tongue would gather together before the throne and worship Him," Barker continues. "I believe we have an opportunity to get a taste of that as we worship with songs that echo that unity. I believe there's a sound God wants to send out from Kona Hawaii, and YWAM bases around the world, that as people sing it, their hearts would be captivated to know God, adventure with God and take His message to the ends of the earth."
The song is loaded and ready to use- just access your WorshipTeam.com system database.
The song is full featured with complete lyrics, chord charts and full length audio. Check out this great new song, hear it in the original key, or choose your own key and play it the way you like it.
blessings
Cody Gentes
p.s. if you have never tried out Worshipteam.com, try it FREE for one month by simply going here: http://www.worshipteam.com/try ! See you there.