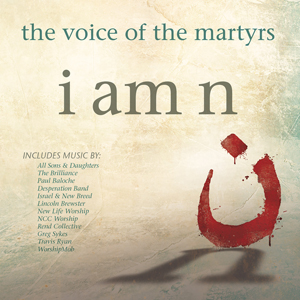 Various Artists has released "i am n" through Integrity Music and all songs are now loaded into WorshipTeam.com "i am n" is a recording of some great new songs.
Thousands of Christians have died at the hands of Muslim extremists, and the atrocities committed by terrorists continue to make headlines across the globe. The Voice of the Martyrs (VOM), a nonprofit that offers practical and spiritual help to persecuted Christians, has launched the "i am n" movement that has already generated over $5 million in aid for Christians who have been displaced by the self-proclaimed Islamic State known as ISIS. Now, VOM is partnering with Integrity Music and its parent organization, the 140-year old church resource provider, David C Cook, to help spread awareness of the plight of persecuted Christians around the world through a new i am n album releasing Feb. 12, and i am n book and curriculum releasing March 1.
The "i am n" movement takes its name from the symbol used by ISIS militants to target believers. It began when ISIS militants moved into northern Iraq and began identifying Christian-owned property by painting the Arabic letter ن or "n" on homes and churches. This single letter conveyed the accusation that the occupants were "Nazarenes"—followers of Jesus of Nazareth rather than Islam—giving them the ultimatum to convert to Islam and stay in the community, leave, or die.
Integrity Music worked with VOM to develop a soundtrack for the movement, featuring music from All Sons & Daughters, The Brilliance, Lincoln Brewster, Paul Baloche, Travis Ryan, New Life Worship, WorshipMob, NCC Worship, Desperation Band, Rend Collective, Israel and New Breed and newly signed Integrity worship leader, Greg Sykes. The 12-track i am n album includes the song, "We Stand As One," performed by Sykes and written especially for the album by him along with Integrity A&R Director Steve Merkel, writer of "Lord Have Mercy," and Dove Award winner Don Poythress, who's also the songwriter behind country hits like Willie Nelson's "You Remain" and Easton Corbin's "A Little More Country Than That."
In addition to the music, David C Cook published the book i am n: Inspiring Stories of Christians Facing Islamic Extremists along with a 90-day companion devotional and related curriculum. The i am n book shares the real-life stories of Christians holding on to their faith in the midst of violence, fear and death. Readers will be inspired, encouraged and challenged by the tremendous faith and courage of their persecuted brothers and sisters in Christ and motivated, enabled and equipped by the practical insight VOM provides at the conclusion of each story.
Proceeds from the sale of all "i am n" related products will be used by Voice of the Martyrs to support persecuted Iraqi and Syrian Christians, including those fleeing Syria as refugees by providing temporary shelter, medical care, food, clothing, clean drinking water and more. All songs are loaded and ready to use- just access your WorshipTeam.com system database.
The songs are full featured with complete lyrics, chord charts and full length audio. Check out these great new songs, hear them in the original key, or choose your own key and play it the way you like it.
blessings
Cody Gentes
p.s. if you have never tried out Worshipteam.com, try it FREE for one month by simply going here: http://www.worshipteam.com/try ! See you there.