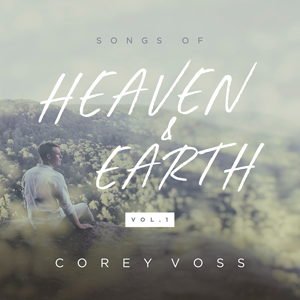 Corey Voss has released "Songs Of Heaven & Earth" through Integrity Music and all songs are now loaded into WorshipTeam.com "Songs Of Heaven & Earth" is a live recording of some great new songs.
Integrity Music announces the July 28 global release of the live recording Songs Of Heaven & Earth: Volume 1 from songwriter and worship leader Corey Voss. Voss, the Worship & Creative Arts Pastor for Gateway Church in Shelbyville, Tennessee, has written songs recorded by Selah ("I Got Saved"), Paul Baloche ("Psalm 92" / "We Come To You, Jesus"), Jaci Velasquez ("Praise The King") and Dustin Smith ("How Great" / "Consume Us") among others. The twenty-something Voss takes his craft as a writer of songs for the Church very seriously. "When we sing songs, we are releasing prayers, scriptures and songs of praise that shift and fill the atmosphere with God's presence. So, as I write, I begin by asking the Lord, 'What do Your people need to be singing?'."
For Songs Of Heaven & Earth, Voss recorded at his home church with producer Kyle Lee (Aaron Shust, Bryan & Katie Torwalt). In addition to "Canyons," which Voss co-wrote with Dove Award winner Krissy Nordhoff ("Your Great Name"), the project includes "Don't Ever Let Me Go" a co-write with Dove Award winner Jennie Lee Riddle ("Revelation Song"), and "The King Is Here" a co-write with Rhyan Shirley. The EP is rounded out with songs from fellow Integrity writers: "As It Is In Heaven," penned by Alisa Turner and Dove Award winner Michael Farren, and "God Who Moves The Mountains," penned by Dustin Smith, Richie Fike and David Leonard (All Sons & Daughters).
As one might expect from the title, Songs Of Heaven & Earth reflects aspects of both the Creator and His creation. But, Voss, an avid hiker who draws inspiration and lyrical imagery from nature, said the story goes even deeper. "Years ago, a friend shared a prophetic word that God had given her for me," explains Voss. "She said that the Lord had called me to 'execute something from Heaven that would be new in the earth.' That has stayed in my heart all these years. So, when my friend and co-writer Rhyan Shirley was praying for me and said, 'you should call your next project Songs Of Heaven & Earth,' I realized that we had come full circle. It just seemed the perfect title and God's perfect timing."
All songs are loaded and ready to use- just access your WorshipTeam.com system database.
The songs are full featured with complete lyrics, chord charts and full length audio. Check out these great new songs, hear them in the original key, or choose your own key and play it the way you like it.
blessings
Cody Gentes
p.s. if you have never tried out Worshipteam.com, try it FREE for one month by simply going here: http://www.worshipteam.com/try ! See you there.