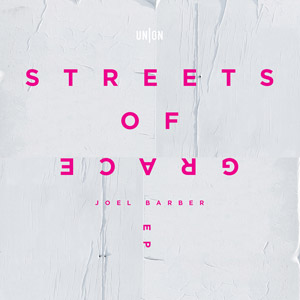 Joel Barber has released "Streets Of Grace EP" through Vineyard Records UK and all songs are now loaded into WorshipTeam.com "Streets Of Grace EP" is a recording of some great new songs.
Vineyard Records UK today announced the release of the first EP from their new record label,Union. Titled Streets Of Grace the EP features upcoming worship leader Joel Barber and marks a new direction for Vineyard Records as they realize their vision to give exciting, young, British worship leaders, songwriters and musicians a platform for their music.
Jimmy Cooke, General Manager at Vineyard Records UK says, "We are really blessed within the Vineyard Churches movement to have a wealth of young, talented worship leaders and writers. Our rich history with worship music shows us that if we nurture that talent and give them the opportunity and audience to showcase their music, that it will also be a blessing to the wider church." The 5-track EP from Leicester-based Barber, which was co-written with Nick Herbert (Gas Street / Worship Central) and produced by Jonny Bird (Martin Smith, Soul Survivor), features an intensely compelling collection of songs that document Joel's personal journey as a young worshipper. The EP also intertwines the story of Leicester City Vineyard and the soundtrack marks their journey as a local church having big impact in the city over the last 18 months. After studying guitar at the Institute of Contemporary Music in London for two years, Joel started playing guitar regularly at Soul Survivor summer festivals with Tom Smith, Beth Croft and Tim Hughes. He has also led worship at numerous national Vineyard UK events and featured on several Vineyard recordings. Cooke continues, "Joel is a gifted worship leader and we are delighted that his EP is helping us launch the new label. Each song has a powerful story and we are convinced that they will be a blessing for the listener, not just within the Vineyard movement but for churches and individuals across the UK." All songs are loaded and ready to use- just access your WorshipTeam.com system database.
The songs are full featured with complete lyrics, chord charts and full length audio. Check out these great new songs, hear them in the original key, or choose your own key and play it the way you like it.
blessings
Cody Gentes
p.s. if you have never tried out Worshipteam.com, try it FREE for one month by simply going here: http://www.worshipteam.com/try ! See you there.