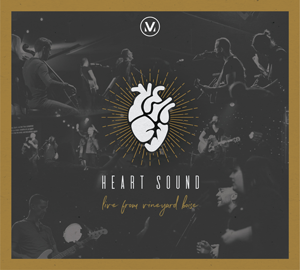 Vineyard Boise has released "Heart Sound: Live From Vineyard Boise" through Vineyard Worship and all songs are now loaded into WorshipTeam.com "Heart Sound: Live From Vineyard Boise" is a live recording of some great new songs.
Vineyard Worship presents the debut release from Heart Sound, the worship expression of Vineyard Boise. Produced by Mitchell Maldonado (We Are Messengers, The Neverclaim) and mixed by Anchour Studio (Kyrie Eleison, Wear The Crown) Heart Sound: Live From Vineyard Boise captures the energy and passion of a local church gathered on a Sunday morning to pursue God's heart in worship!
Introducing 10 songs written by the Heart Sound community and featuring familiar voices Jesse Meyer ("All For You Jesus") and Jeremiah Carlson (The Neverclaim) alongside brand-new voices Jen Call, Marcus Hathcock, and Amber Gunstream, this project highlights the creativity and passion that is surfacing from this talented worship community.
Sonically, Heart Sound: Live From Vineyard Boise is modern and expansive teeming with live strings, layered synths, soaring guitars, and massive drums. Even louder are the voices of this congregation rising in unison to join and respond in praise. From the driving declarations of "Wildfire" and "Finished", to the modern worship anthems "All For You Jesus" and "Song of Heaven", and the tender words of trust in "God With Me" and "Safe", this powerful debut captures the Heart Sound being cultivated at Vineyard Boise.
All songs are loaded and ready to use- just access your WorshipTeam.com system database.
The songs are full featured with complete lyrics, chord charts and full length audio. Check out these great new songs, hear them in the original key, or choose your own key and play it the way you like it.
blessings
Cody Gentes
p.s. if you have never tried out Worshipteam.com, try it FREE for one month by simply going here: http://www.worshipteam.com/try ! See you there.