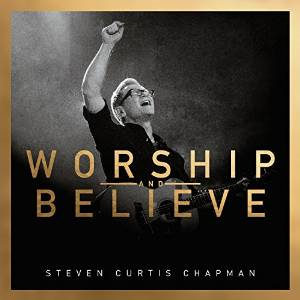 Steven Curtis Chapman has released "Worship And Believe" through Provident Label Group LLC and all songs are now loaded into WorshipTeam.com "Worship And Believe" is a studio/live recording of some great new songs.
Multi-platinum selling and five-time GRAMMY® award-winning artist Steven Curtis Chapman is gearing up to release his 23rd career studio album, Worship And Believe, this Friday, March 4 (Essential Worship). Co-produced by Chapman and Brent Milligan, Worship And Believe is Chapman's first worship record in his three decade-long career. Featuring 16 tracks with co-writes from artists such as Matt Maher, Chris Tomlin, Matt Redman and Rend Collective, the critics have already praised Worship And Believe from this iconic artist as "worth the wait." Here are just a few advance reviews on the anticipated album:
"We've been waiting for over 20 years for this release, even if we didn't know it…the result is powerful music for individual worship and some…to unite congregations. Worship And Believe represents Chapman's continual willingness to grow in artistry…He has led people through life in honest pursuit of following Christ in the everyday, and now he is leading people in more direct prayers." – Worship Leader Magazine. All songs are loaded and ready to use- just access your WorshipTeam.com system database.
The songs are full featured with complete lyrics, chord charts and full length audio. Check out these great new songs, hear them in the original key, or choose your own key and play it the way you like it.
blessings
Cody Gentes
p.s. if you have never tried out Worshipteam.com, try it FREE for one month by simply going here: http://www.worshipteam.com/try ! See you there.