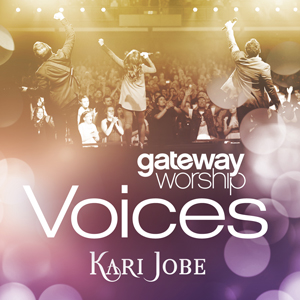 Kari Jobe has released "Gateway Worship Voices" through Integrity Music and all songs are now loaded into WorshipTeam.com "Gateway Worship Voices" is a live recording of some great new songs.
Integrity Music announces the April 1 global release of Gateway Worship Voices: Kari Jobe, an 11-track album and resource DVD featuring some of the most beloved songs from the Dallas-Fort Worth-based ministry and its longtime team member, Dove Award-winning and Grammy Award-nominated worship leader Kari Jobe.
For this collection, Integrity gathered 10 of Jobe's songs from five of Gateway's live albums as well as one song, "My Beloved," from her best-selling, self-titled studio project. The recording includes global church favorites such as "O The Blood," cowritten by Gateway's Thomas Miller, "Revelation Song," written by Dove Award winner Jennie Lee Riddle, and "You Are For Me," written by Jobe. Together these three songs alone have garnered over 30 million YouTube views for their live music videos and fan-generated content.
All 11 songs on the project will be available as a standard digital album through iTunes and Amazon.com. In addition, there will be a special double-disc set available at Christian retail stores that includes the CD and a free DVD filled with over $60 of resource content, including enhanced lyric videos with stereo, split and click track options, chord charts, sheet music and lyrics.
Gateway Worship Voices: Kari Jobe is part of an ongoing series for Gateway Worship, the team led by Executive Senior Pastor Thomas Miller and Executive Pastor of Campus Worship Mark Harris. Gateway Worship serves Gateway Church's 35,000-plus attendees along with thousands more who particpate in online services. Gateway Worship, whose songs are administered and promoted by Integrity Music, have sold hundreds-of-thousands-of-albums and individual tracks while contributing numerous songs that rank within the top most-used songs in churches around the world according to CCLI (Christian Copyright Licensing International). All songs are loaded and ready to use- just access your WorshipTeam.com system database.
The songs are full featured with complete lyrics, chord charts and full length audio. Check out these great new songs, hear them in the original key, or choose your own key and play it the way you like it.
blessings
Cody Gentes
p.s. if you have never tried out Worshipteam.com, try it FREE for one month by simply going here: http://www.worshipteam.com/try ! See you there.