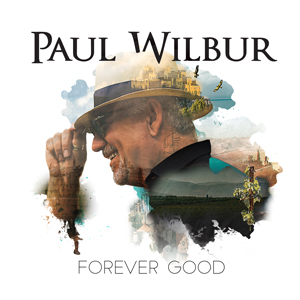 Paul Wilbur has released "Forever Good" through Integrity Music and all songs are now loaded into WorshipTeam.com "Forever Good" is a recording of some great new songs.
Integrity Music announces the April 15 global release of Forever Good, a 10-track album from the world's
preeminent Messianic worship leader, Paul Wilbur, known for crafting music filled with scriptural truth that also celebrates the Jewish heritage of the Christian faith. The album launches with a special celebration on the 15th in Wayne, New Jersey at Beth Israel Worship Center, the largest Messianic congregation in the U.S. and home of renowned Messianic Jewish Rabbi Jonathan Cahn.
Wilbur, who has recorded albums in several languages, has been sharing a Yeshua-focused message that reaches beyond cultural, social and political borders for nearly 40 years. Whether he's singing to packed soccer stadiums throughout Latin America or bringing his anointed message directly to the people of Israel, his distinctive songs of prophetic praise and worship have reached millions. And within his 25-year relationship with Integrity, Wilbur has recorded landmark albums such as Shalom Jerusalem and The Watchman that have helped shape the worship of Messianic and evangelical congregations around the world.
In thousands of concerts, numerous recordings and over 3 million units in album sales, Wilbur speaks a language of melody and meaning that goes straight to the heart. His musical history goes back to the mid-seventies when he was a college student studying to be an opera singer and cantor before a born again experience took him in a radical new direction. From there, he went on to found Harvest, an early Jesus Movement band, and subsequently formed Israel's Hope, dedicated to bringing the message of the gospel back to the Jewish people. His cross-cultural, multi-lingual ministry would in time take him to every continent on the globe, playing before audiences in far-flung locations ranging from South Africa to Singapore, Kuwait to Cuba.
With Forever Good, which was produced by Dan Needham, Wilbur partners with co-writers that include Michael Farren, Don Poythress, Michael Neale and Steve Merkel as well as newcomer Jonathan Lane, a worship leader at a local Colorado Messianic congregation. The result is songs that declare God's infinite mercy, provision and salvation, reflecting Wilbur's hope that they are "a word for the Church, for such a time as this."
"Where His goodness is proclaimed, that's where His presence shows up," says Wilbur. "He inhabits the praises of His people."
"We always talk about the alignment of Heaven and Earth," he continues. "What about the alignment of heart and lips? Do our lips say one thing, while our hearts are far from Him? That's the core message behind this project… the victory is in your mouth when your heart and your lips line up." All songs are loaded and ready to use- just access your WorshipTeam.com system database.
The songs are full featured with complete lyrics, chord charts and full length audio. Check out these great new songs, hear them in the original key, or choose your own key and play it the way you like it.
blessings
Cody Gentes
p.s. if you have never tried out Worshipteam.com, try it FREE for one month by simply going here: http://www.worshipteam.com/try ! See you there.