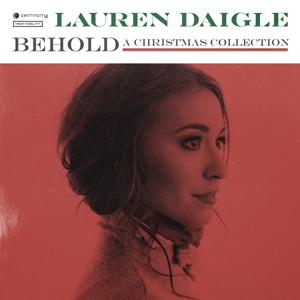 Lauren Daigle has released "Behold" through Centricity Music and all songs are now loaded into WorshipTeam.com "Behold" is a recording of some great new songs.
Award-winning singer/songwriter Lauren Daigle, will release her first-ever Christmas album titled Behold, on October 21 via Centricity Music. Produced by Paul Mabury and Jason Ingram, the style of the holiday album will pay homage to the sounds of Lauren's hometown of New Orleans. Featuring soft jazz renditions of Christmas favorites, Behold will include such classics as "Have Yourself A Merry Little Christmas," "Silent Night," "O Come All Ye Faithful," "What Child Is This," "O Holy Night," and more; in addition to an original composition titled "Light of the World", which was written by Paul Mabury and Paul Duncan. Pre-orders for the album will begin on September 23.
Says Daigle, "As a little girl, New Orleans graphed its culture deep within my veins and I fell in love with the cultural vibrancy and the resonating sound of New Orleans Jazz. The city is my happy place, a place I love more each time I return home. It has been a dream of mine to make a record of this caliber, touching respectfully on the roots of my upbringing and honoring those who paved the way. I hope as you listen to this record you are taken away by the awe and wonder of Christ in this season; and peace fills your home, your spirit and you find rest in the midst of rush. And above all, I hope Jesus is found riding on the sounds and into the hearts of all who come and Behold."
"When you get a chance to combine Christmas, the artistry of Lauren Daigle, and the New Orleans sound, you do it!," says John Mays, VP of Centricity Music A&R. "This recording has ended up being a completely unique and joyful expression of Lauren's music. She's loved the process of making it, and we're excited to get to share it so that families everywhere can have a richer celebration of the season for years to come." All songs are loaded and ready to use- just access your WorshipTeam.com system database.
The songs are full featured with complete lyrics, chord charts and full length audio. Check out these great new songs, hear them in the original key, or choose your own key and play it the way you like it.
blessings
Cody Gentes
p.s. if you have never tried out Worshipteam.com, try it FREE for one month by simply going here: http://www.worshipteam.com/try ! See you there.