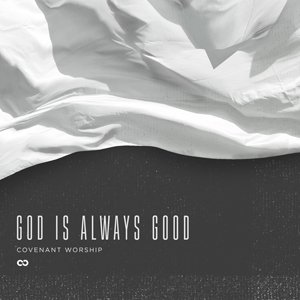 Covenant Worship has released "God Is Always Good" through Integrity Music and this song is now loaded into WorshipTeam.com "God Is Always Good" is a recording of a great new song.
Integrity Music announces the release of "God Is Always Good," an uplifting new single based on James 1:17 (Every good and perfect gift comes from the Father) from Dallas-area based Covenant Worship, the music ministry of Covenant Church.
Penned by worship team members Josh DuFrene, Colin Edge and Nathan Walker, the song is a declarative anthem that reminds listeners of God's goodness and provision in every situation and every season.
You are constant and true
All my hope, found in You
Always faithful to do
What You promise…
What I sing on the mountain, I'll sing in the valley
That God is always good
"This song kind of finds you wherever you may be in life and says, 'God hasn't changed, He's still good… He's for you and not against you.'," says DuFrene. "Whether you're in the highest place in your life or whether you're in the storm, your song and your beliefs about God don't change. It doesn't matter what you walk through, you decide ahead of time how you'll react when you get there."
The song is loaded and ready to use- just access your WorshipTeam.com system database.
The song is full featured with complete lyrics, chord charts and full length audio. Check out this great new song, hear it in the original key, or choose your own key and play it the way you like it.
blessings
Cody Gentes
p.s. if you have never tried out Worshipteam.com, try it FREE for one month by simply going here: http://www.worshipteam.com/try ! See you there.