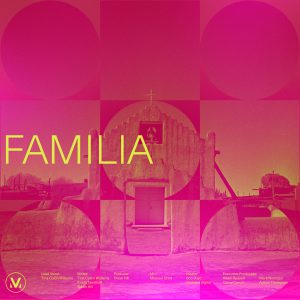 Vineyard Worship has released "Familia" featuring Tina Colón Williams and the song is now loaded into WorshipTeam.com "Familia" is a studio recording of a great new song.
Vineyard Worship is a truly global family with over 600 churches in the US and 3000 churches worldwide. "Familia" is a perfect representation of this reality. An organically bilingual, joyful celebration of the family of God, "Familia" is so timely for this moment of history. Featuring the powerful vocals of Tina Colón Williams (Vineyard Soul, Porter's Gate) and produced by Grammy
award winner Dwan Hill, this new single is driven by syncopated drumbeats and soaring trumpet flairs that will inspire a dance party across all generations!
Initiated in the midst of pandemic and political upheaval, this song of unity was written collaboratively by three ethnically diverse people, strangers until their creativity brought them together via Zoom.
While the Vineyard has a history of translating worship songs into Spanish, their desire was to write a bilingual song with simple yet powerful lyrics that bridge the culture gap that feels ever widening.
"Familia" is a call to worship, a song about coming together and building each other up, a prophetic declaration that the church is a home for all people, regardless of tribe or tongue. The deeper spiritual reality of this song is evidenced in the daily work of songwriter and vocalist, Tina Colón Williams, who, as an immigration lawyer, represents undocumented immigrants facing deportation. Carrying their stories with her, Tina is passionate about the role of the Church as a counter-culture space of 'home', championing injustices that the world is blind to, and celebrating the unity we can experience as the family of God.
The song is loaded and ready to use- just access your WorshipTeam.com system database.
The song is full featured with complete lyrics, chord charts and full length audio. Check out this great new song, hear it in the original key, or choose your own key and play it the way you like it.
blessings
Cody Gentes
p.s. if you have never tried out Worshipteam.com, try it FREE for one month by simply going here: http://www.worshipteam.com/try ! See you there.