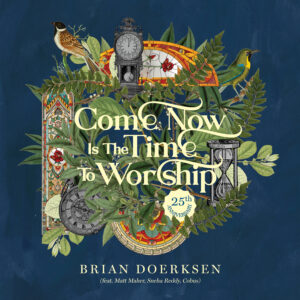 Brian Doerksen has released "Come Now Is The Time To Worship" and the song is now loaded into WorshipTeam.com "Come Now Is The Time To Worship" is a recording of a great new song.
Brian Doerksen's timeless anthem "Come Now Is The Time To Worship" has traveled around the world and this 25th anniversary edition with special guests celebrates that. The single has been newly recorded in collaboration with Canadian Grammy nominated and Dove award winning recording artist Matt Maher, South African YouTube drum sensation Cobus, and introduces the beautiful vocals of South Asian recording artist Sneha Reddy. This song has been translated into many languages and sung countless times, from remote rural villages to city churches of all denominations around the world, as well as being part of the Coronation Prom program at London's Royal Albert Hall.
Returning as long-time creative partners are Brian Thiessen on the electric guitars, Matt Weeks on the bass guitar from the UK, and multi-instrumentalist, Juno and Covenant award winning album producer Philip Janz (Today, Holy God). The newest musical addition is Mike Haughton from the UK who plays the Saxophone solo. The track is produced by Brian and Philip Janz with Luke Vandevert and Marika Siewert serving as co-producers.
This song is an exciting culmination of faith, friendship, community, and collaboration carrying with it a fresh sound, with the hope of encouraging generations to come . . . every nation, every tribe, everyone.
The song is loaded and ready to use- just access your WorshipTeam.com system database.
The song is full featured with complete lyrics, chord charts and full length audio. Check out this great new song, hear it in the original key, or choose your own key and play it the way you like it.
blessings
WorshipTeam Staff
p.s. if you have never tried out Worshipteam.com, try it FREE for one month by simply going here: http://www.worshipteam.com/try ! See you there.

Also if you want some awesome WT Merch find yours here! https://store.worshipteam.com/