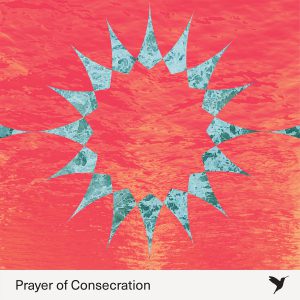 Vineyard Worship UK & Ireland has released "Prayer of Consecration" featuring Olu Meduoye and the song is now loaded into WorshipTeam.com "Prayer of Consecration" is a studio recording of a great new song.
Vineyard Worship release 'Prayer of Consecration', an atmospheric new single featuring vocalist Olu Meduoye centred around the call to surrender to the Lordship of Jesus. The song draws us to recognise holiness as a joyful dimension – the beauty of oneness with the Divine where yielding one's life to Christ is synonymous with life to the full. In a world of confusion and desperate need for meaning, 'Prayer of Consecration' invites the listener into a meditative and life-giving journey as co-writer Jonny Riggs (Coastline Vineyard Bournemouth) explains, "the lyrics are a prayer of aspiration rather than a confident declaration – it's an opportunity to surrender afresh, offering God the dry wood of our lives in the hope that He might breathe on us, that we would be aflame, set apart for Him."
'Prayer of Consecration' points to the mind-blowing invitation to relationship with God and gives language to respond to Him. Whilst challenging lyrics acknowledge our undeserving nature, the sacred love and grace of God are weaved in at its core. The new single came in a time of honest dialogue with God and Vineyard Worship's hope is for this language to encourage prayerful conversation. "We're not simply trying to 'be consecrated', but we're bringing God our all and asking Him to respond," Jonny continues.
Spirit breathe upon this altar
Father have my undivided heart
Jesus I surrender
All I want is to be set apart
Co-written and produced by Rich di Castiglione, 'Prayer of Consecration' opens a spacious soundscape with a delicate instrumental background that carry Olu's authentic and stunning voice. Still, beyond its essence of quiet devotion, the new Vineyard Worship song captures undeniable power. And perhaps that is the main point after all; consecration is giving up our own delusional control to receive God's endless power…
The song is loaded and ready to use- just access your WorshipTeam.com system database.
The song is full featured with complete lyrics, chord charts and full length audio. Check out this great new song, hear it in the original key, or choose your own key and play it the way you like it.
blessings
WorshipTeam Staff
p.s. if you have never tried out Worshipteam.com, try it FREE for one month by simply going here: http://www.worshipteam.com/try ! See you there.

Also if you want some awesome WT Merch find yours here! https://store.worshipteam.com/