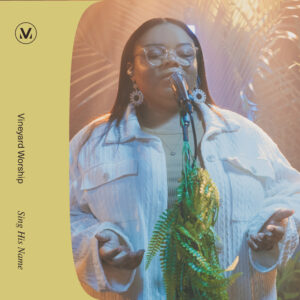 Vineyard Worship has released "Sing His Name" featuring Alexandria Faison and the song is now loaded into WorshipTeam.com "Sing His Name" is a recording of a great new song.
Introducing "Sing His Name" – a brand new single from Vineyard Worship that encapsulates the power and significance of Jesus' name.
For every season of life, there's a reason to sing the name of Jesus. In joy and triumph, His name brings exultation. In uncertainty and struggle, it offers solace and hope.
In gathered worship, His name resonates, filling our heart swith reverence. In our deepest need, His name breaks through barriers, assuring us of His presence. And even inconfident self-assurance, we proclaim His faithfulness.
Our hope is that "Sing His Name" becomes an anthem that connects the worshiping church to the transformative power of Jesus, inspiring their devotion and filling hearts with His presence.
"Sing His Name" is the second single from the upcoming album, This Joy – Live from Vineyard Worship, releasing this September. Find "Sing His Name" on WorshipTeam."
The song is loaded and ready to use- just access your WorshipTeam.com system database.
The song is full featured with complete lyrics, chord charts and full length audio. Check out this great new song, hear it in the original key, or choose your own key and play it the way you like it.
blessings
WorshipTeam Staff
p.s. if you have never tried out Worshipteam.com, try it FREE for one month by simply going here: http://www.worshipteam.com/try ! See you there.

Also if you want some awesome WT Merch find yours here! https://store.worshipteam.com/