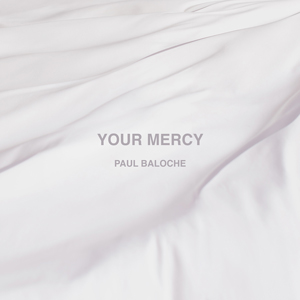 Paul Baloche has released "Your Mercy" through Integrity Music and all songs are now loaded into WorshipTeam.com "Your Mercy" is a live recording of some great new songs.
Worship leader and Dove Award winning songwriter Paul Baloche has been serving the local church on a global scale for almost 30 years, crafting songs such as "A New Hallelujah," "Open The Eyes Of My Heart," "Your Name" and "Above All" that have been recorded in 10 languages and sung by believers around the world. He also has created a variety of training resources for worship teams while mentoring the next generation of worship leaders. Now this "worship pastor of worship pastors" launches his next season of ministry from a home base in New York City with a new album, Your Mercy, filled with songs that reflect his adopted community and God's unwavering grace.
Produced by Baloche and longtime collaborator Michael Rossback, Your Mercy delivers 12 songs penned by Baloche with cowriters including All Sons & Daughters, Michael Neale, Corey Voss, Andi Rozier (Vertical Church Band), Matt Redman, Aaron Shust, Meredith Andrews, Aaron Gillespie and Jason Ingram. The project, which has already received a 5-star review from Worship Leader magazine, releases globally in stores and on digital platforms through Integrity Music October 7.
Your Mercy, like all of Baloche's albums, was crafted with the local church and worship leader in mind. The songs were recorded live in a Brooklyn studio over several nights and are congregational in nature with stripped down instrumentation. Baloche describes the album as "honest worship sessions with very few overdubs, a back-to-basics simplicity of worship… singing together new prayers and songs as a community to glorify God." All songs are loaded and ready to use- just access your WorshipTeam.com system database.
The songs are full featured with complete lyrics, chord charts and full length audio. Check out these great new songs, hear them in the original key, or choose your own key and play it the way you like it.
blessings
Cody Gentes
p.s. if you have never tried out Worshipteam.com, try it FREE for one month by simply going here: http://www.worshipteam.com/try ! See you there.