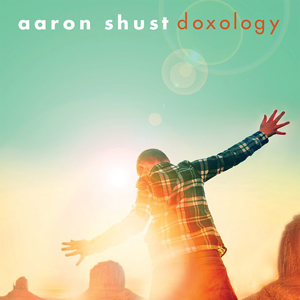 Aaron Shust has released "Doxology" through Centricity Music and all songs are now loaded into WorshipTeam.com "Doxology" is a recording of some great new songs.
— Dove Award-winning artist Aaron Shust will release his new studio album for Centricity Music, Doxology, on Friday, August 28th. The project was recorded in Nashville and was produced by the David Crowder Band's renowned drummer, Christian Paschall. The record contains 10 new songs, with eight that were co-written by Shust, including "Nothing More" that features labelmate, Lauren Daigle. The album delivers Shust's signature style of corporate worship in a festive and celebratory frame that honors the good news of the risen Christ. The project will be available at all online music outlets.
The joyous recordings on Doxology reflect the aftermath of the previous four tumultuous years when Shust dealt with the serious health problems of his two youngest sons. Having come through that time with two healthy sons today, Shust is celebrating the promise of God and His faithfulness.
"In the first chapter of Job," Shust explains, "we see that Job was able to worship even in the midst of his grief, but he wasn't ready to celebrate yet. I can relate to that. Four years ago I could worship, even in the midst of suffering, but I wasn't ready to celebrate. It's not that circumstances aren't still hard sometimes. I still have to remind myself that God's promises are true. But having walked through what we've walked through as a family, and having experienced God's comfort and faithfulness in deeper ways than we ever had before, there's an air of celebration and expectancy that wasn't there before." All songs are loaded and ready to use- just access your WorshipTeam.com system database.
The songs are full featured with complete lyrics, chord charts and full length audio. Check out these great new songs, hear them in the original key, or choose your own key and play it the way you like it.
blessings
Cody Gentes
p.s. if you have never tried out Worshipteam.com, try it FREE for one month by simply going here: http://www.worshipteam.com/try ! See you there.