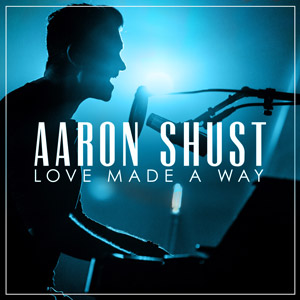 Aaron Shust has released "Love Made A Way" through Centricity Music and all songs are now loaded into WorshipTeam.com "Love Made A Way" is a live recording of some great new songs.
Over the past decade, Aaron Shust has earned a reputation as one of Christian music's most compelling songwriters and a vocalist of considerable depth and passion. He was named both New Artist and Songwriter of the Year at the 2007 Gospel Music Association Dove Awards and the impact of his song, "My Savior My God" was recognized with the Song of the Year honor. He has continued to build on that early promise to become one of the community's most creative and trusted voices.
Shust is well known for such hits as "My Hope is in You," which spent 14 weeks at No. 1, "No One Higher," which hit the summit on the Inspirational chart and "Ever Be," which made its way to No. 3 on the NCA chart. "O Come O Come Emmanuel" has become a perennial holiday favorite, earning acclaim as the most played song each December for 10 years in a row.
As potent as Shust's voice is alone, there's a special anointing that happens when he engages other believers in worship, and that anointing is readily evident on his new live album Love Made a Way, a collection of familiar worship anthems mingled with powerful new songs. "I'd been encouraged by friends and family for years to do a live record," says Shust, admitting he was initially hesitant. As he completed his first decade as a recording artist though, it just seemed like the right time. "Hitting the 10-year mark, it felt like a new season, like a little celebration, a tip of the hat to the first 10 years. We had a guest speaker recently at our church talk about how God is a God of celebration. God wanted to make sure His people were able to remember and celebrate their past. So I felt that after 10 years, it was time to celebrate."
That spirit of celebration infuses every moment on Love Made a Way with a sense of purpose and exuberance. "To hear voices in a crowd singing along changes the game for me," says Shust, a Pennsylvania native who led worship in church for years before gaining a national platform as a recording artist.
"I've always said that in a concert setting I want people to worship. I am always encouraging people to sing along. The biggest compliment I can receive after a concert is when someone says, 'that was less of a concert and more of a church service, more of a worship experience.' I'm like, 'Mission accomplished! That's exactly what I wanted.' So, to have people singing along on this album is pretty magnificent.
"When I invited people to be a part of this recording, I wanted to make sure they wanted to worship. I didn't want them to be just spectators. I wanted them to be worshippers. I wanted them to be desirous of entering into the presence of God, raising their hands and closing their eyes if they wanted to, and that's how the night was. It was a genuine experience of worship."
Shust was very intentional in choosing songs for Love Made a Way. "Five are songs that I've recorded over the past twelve years, standards that I'm going to play every night in concert," he says. "And some of those songs we play very differently from the original recordings. For example, "My Savior My God," we never play it live the way people are used to hearing it. This was a chance to take some of the songs we play live every night and freshen up the recordings, but I also wanted to write new songs and offer new thoughts, new praises and new worship." All songs are loaded and ready to use- just access your WorshipTeam.com system database.
The songs are full featured with complete lyrics, chord charts and full length audio. Check out these great new songs, hear them in the original key, or choose your own key and play it the way you like it.
blessings
Cody Gentes
p.s. if you have never tried out Worshipteam.com, try it FREE for one month by simply going here: http://www.worshipteam.com/try ! See you there.