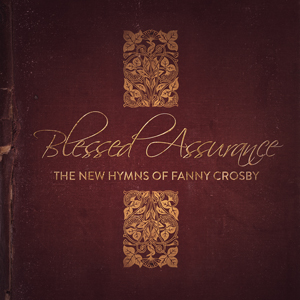 Various Artists has released "Blessed Assurance: The New Hymns Of Fanny Crosby" through Integrity Music and all songs are now loaded into WorshipTeam.com "Blessed Assurance: The New Hymns Of Fanny Crosby" is a recording of some great new songs.
The incomparable Fanny Crosby's gift to the Church shines anew in Blessed Assurance: The New Hymns Of Fanny Crosby releasing globally Oct. 9 from Integrity Music. The project features unfinished and never-before-published Crosby hymns respectfully crafted with help from Paul Baloche, Michael Farren, All Sons & Daughters, Jon Egan (New Life, Desperation Band), Bart Millard (MercyMe), Stu G (Delirious?, One Sonic Society), Michael W. Smith, Matt Redman, Krissy Nordhoff ("Your Great Name"), Greg Sykes, Dustin Smith and more.
Complete with vocal performances from Baloche, Egan, All Sons & Daughters, Blind Boys of Alabama, Elias Dummer (The City Harmonic), Ricky Skaggs & The Whites, Darlene Zschech, Israel Houghton with Seth & Nirva, Ernie Haase & Signature Sound and Meredith Andrews, among others, Blessed Assurance: The New Hymns Of Fanny Crosby stands as an original, new-heritage collection from this blind composer that has inspired generations of Christians around the world with hymns like "To God Be the Glory," "All the Way My Savior Leads Me," "Blessed Assurance" and "Redeemed."
"When you start looking at her legacy, you begin to understand how this remarkable woman truly lived her worship," says Integrity's VP of Song & Artist Development, Adrian Thompson. "She lived a frugal life, was diligent in writing, a blessing to the poor, didn't build herself up… And yet, every living president in her lifetime wanted to meet her. The impact of her life and the influence of her hymns simply cannot be overstated."
In celebration of the remarkable legacy of Fanny J. Crosby 100 years after her death, Integrity Music offered the select gathering of remarkable worship leaders and songwriters above access to an astounding 2,700 unpublished and unfinished compositions by Crosby. This forgotten musical treasure that sat hidden for years was passed from Crosby's publisher to the historic Wheaton College. All songs are loaded and ready to use- just access your WorshipTeam.com system database.
The songs are full featured with complete lyrics, chord charts and full length audio. Check out these great new songs, hear them in the original key, or choose your own key and play it the way you like it.
blessings
Cody Gentes
p.s. if you have never tried out Worshipteam.com, try it FREE for one month by simply going here: http://www.worshipteam.com/try ! See you there.