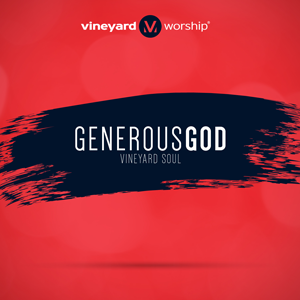 Vineyard Worship has released "Generous God" through Vineyard Worship and all songs are now loaded into WorshipTeam.com "Generous God" is a recording of some great new songs.
Vineyard Soul is a multi-ethnic community of worshippers seeking to broaden the sound and expression of Vineyard Worship with the soulful sounds of the African-American worship experience. GENEROUS GOD, Vineyard Soul's sophomore release, features diverse voices from Vineyard churches all over the country. With rhythmic grooves and vocal arrangements, this album captures the heartbeat and sounds of the growing number of multiethnic churches in the Vineyard movement.
Contemporary gospel, R&B, and modern worship anthems blend to express God's lavish love for us and our longing to receive all He has to offer. The title track, featuring the voice of Tina Colón-Williams, sets the tone for GENEROUS GOD by proclaiming the biblical
promise that our generous God can and will do more than we can ask or imagine (Ephesians 3:20).
All songs are loaded and ready to use- just access your WorshipTeam.com system database.
The songs are full featured with complete lyrics, chord charts and full length audio. Check out these great new songs, hear them in the original key, or choose your own key and play it the way you like it.
blessings
Cody Gentes
p.s. if you have never tried out Worshipteam.com, try it FREE for one month by simply going here: http://www.worshipteam.com/try ! See you there.