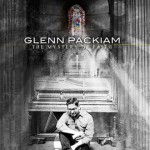 Glenn Packiam's new solo album "The Mystery of Faith" now has all songs loaded into WorshipTeam.com. This is a studio worship album featuring new songs based, created and presented as a fresh expression of the historic liturgical service! In addition to 8 songs, there are two readings (the Nicene Creed and Prayer of Confession) with musical backdrops for easily adoption into your services. This concept project has both value as a group of great songs but also as a complete service that brings the message of our faith through the progression of these songs. Glenn co-writes with Ian Eskelin, Ian Morgan Cron, Jennie Lee Riddle, and others to craft these beautiful and usable songs. All 10 tracks are loaded and ready to use- just access your WorshipTeam.com system database. For a full album review, you can read more about it here.
The songs are full featured with complete lyrics, chord charts and full length audio. Check out these great new songs, hear them in the original key, or choose your own key and play it the way you like it.
blessings
Kim Gentes
p.s. if you have never tried out Worshipteam.com, try it FREE for one month by simply going here: http://www.worshipteam.com/try ! See you there.