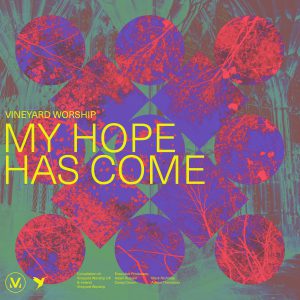 Vineyard Worship has released "My Hope Has Come" featuring various artists and the songs are now loaded into WorshipTeam.com "My Hope Has Come " has live/studio recordings of some great new songs.
"2020… A year we won't quickly forget. In troubled times we start to realize that we need ongoing connection to the Living God more than ever before. MY HOPE HAS COME chronicles the worship journey of the Vineyard creative community through this challenging time.
On the first Friday of every month new music is released from within our global creative Vineyard Worship community. MY HOPE HAS COME is a compilation of our monthly singles from 2020 featuring both the STUDIO and LIVE versions. Featuring important new songs such as the vibrant, Latin gospel-flavored "Familia" and "God of Rest (Dios Del Descanso)", both originally penned in both Spanish and English, to the prophetically-birthed "Sons And Daughters" born from one of our large group worship circles in Cannon Beach, OR back in 2019. Songs such as "Familia", "The Hidden Place", and "You Speak" are first fruits of the new partnership with the historic worship ministry Integrity Music. So much more to come here.
Finally, the hopeful title track "Cherry Blossoms", a song SO relevant to the current cultural moment we find ourselves in. Featuring a live-in-studio video shot in late 2019, "Cherry Blossoms" is already finding a home in churches all over the world.
"In winter, I believe You. In springtime, I see You. It's so good to be with You. My hope has come!"
"Cherry Blossoms" is perfect for any celebration but it carries extra weight as we move toward the Easter season in 2021.
Our singles also highlight the leading worship voices from around the Vineyard movement. MY HOPE HAS COME features Tina Colón Williams (Elm City Vineyard – New Haven, CT), Samuel Lane (St. Albans Vineyard – St. Albans, UK), Joshua Miller (Desert Vineyard – Lancaster, CA), Tim Brown (Canyonview Vineyard – Grand Junction, CO), Kyle Howard (Vineyard of Central Illinois, Urbana, IL), and a few special guests." – Vineyard Worship
The songs are now loaded and ready to use- just access your WorshipTeam.com system database.
The songs are full featured with complete lyrics, chord charts and full length audio. Check out these great new songs, hear them in the original key, or choose your own key and play them the way you like it.
blessings
Cody Gentes
p.s. if you have never tried out Worshipteam.com, try it FREE for one month by simply going here: http://www.worshipteam.com/try ! See you there.