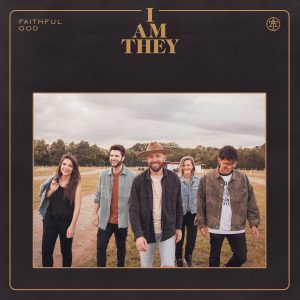 I Am They has released "Faithful God" through Provident Label Group and all songs are now loaded into WorshipTeam.com "Faithful God" is a recording of some great new songs.
For pop worship band I AM THEY, believing in God's faithfulness is an active exercise in trust. After years of member transition and internal uncertainty with how or even why to move forward, they are leaning on Hebrews 10:23 – "Let us hold unswervingly to the hope we profess, for He who is promised is faithful." The band – made up of Matt Hein (vocals, guitar), Abbie Parker, (vocals), Brandon Chase (vocals, guitar), Justin Shinn (keys) and Nicole Hickman (drums) – poured the challenges of the past, hope for the future and a newfound joy for the present into their third album, Faithful God. More than a collection of new songs, Faithful God is a look back and a look forward, a declaration of promises kept and promises yet to come. There's a heaviness that's been lifted and in its place, a redefined sense of what it means to hope for the future. Even the band's moniker speaks to their belief in promises held together by trust, that God is pointing the way forward. That hard-won trust has made the band stronger and spilled over into the attainable message they deliver. I AM THEY's willingness to strip back the layers, to find happiness in the now and have expectant hearts for what's to come, beautifully ties together on Faithful God, an album that's as genuine as it is enjoyable.
All songs are loaded and ready to use- just access your WorshipTeam.com system database.
The songs are full featured with complete lyrics, chord charts and full length audio. Check out these great new songs, hear them in the original key, or choose your own key and play it the way you like it.
blessings
Cody Gentes
p.s. if you have never tried out Worshipteam.com, try it FREE for one month by simply going here: http://www.worshipteam.com/try ! See you there.