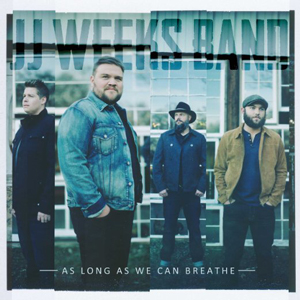 JJ Weeks Band has released "As Long As We Can Breathe" through Centricity Music and all songs are now loaded into WorshipTeam.com "As Long As We Can Breathe" is a recording of some great new songs.
A lifetime is a long time to do anything. Yet, the four members of the JJ Weeks Band are certain they'll spend forever praising God with their lives and their music. On their seventh full-length project—and first for Centricity Music—the JJ Weeks Band musically commits to telling the world about Jesus for as long as they can breathe.
Comprised of lead singer/songwriter JJ Weeks, bassist David Hart, drummer Jon Poole and guitarist Cody Preston, the Macon, Ga., based band may be new to the Centricity roster, but they are far from a new act. The group originated when Weeks—then a worship leader at his hometown church—needed a band for a local worship night. Hitting the road, the group began amassing a loyal fanbase throughout the southeast. To date, they've opened for everyone from MercyMe and Casting Crowns to labelmates Unspoken. In addition, their music has been featured on the official soundtracks for high-profile films God's Not Dead and Four Blood Moons. With the debut of their first national release in 2013, the group earned a Top 10 single with "Let Them See You," a song that remained on Billboard's National Christian Audience Chart for 29 weeks.
"I would sing that little chorus to God every single morning for years before it ever became a song," Weeks says of the band's biggest hit to date, adding that he was surprised with how widely it resonated with fans. "God obviously saw fit to do something different with it, and we've been blown away by what God's done. It's been cool to see it climb the charts, but the emails and the Facebook messages we've gotten is where it all really just hits home."
For Weeks and his bandmates, the stories they hear from fans are the crowning achievement of their vocation. "Making a difference in people's lives—that's really why we do this, we want to be a vessel," the frontman asserts. "We can sing for two hours, and it will not change anything, but God can move in a moment and change everything. That's just how big our God is," Weeks maintains. "Our central message is 'Come to Jesus,' because He loves us more than we can ever understand."
All songs are loaded and ready to use- just access your WorshipTeam.com system database.
The songs are full featured with complete lyrics, chord charts and full length audio. Check out these great new songs, hear them in the original key, or choose your own key and play it the way you like it.
blessings
Cody Gentes
p.s. if you have never tried out Worshipteam.com, try it FREE for one month by simply going here: http://www.worshipteam.com/try ! See you there.