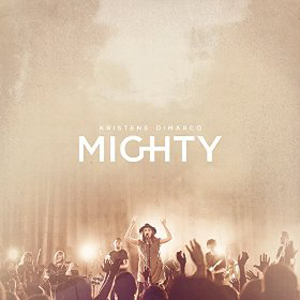 Kristene DiMarco has released "Mighty" through Jesus Culture Music and all songs are now loaded into WorshipTeam.com "Mighty" is a live recording of some great new songs.
Worship leader Kristene DiMarco has released her first live album, Mighty (Jesus Culture Music/Capitol CMG), which is available now. During its first week, DiMarco's album was the highest selling debut for Jesus Culture Music as a new and developing artist. The album debuted in the Top 10 on the Billboard Top Christian Albums chart along with a Billboard Top 200 debut and at No. 3 on the Billboard Praise & Worship Albums chart.
Featuring 11 original tracks that were recorded live earlier this year in Redding, California, Mighty, which boldly showcases DiMarco's powerful lyrics, infectious melodies and her deep love for hymns, is already receiving high praise from the media. Here are a few highlights of what the critics have been saying:
"This passionate worship album demonstrates DiMarco's versatile voice, ranging from light and sweet to gutsy, dark, and soulful as each song rises and falls in dynamics and intensity." – Worship Leader Magazine
"Lovers of her powerful worship leading will be delighted with what they find here." – CCM Magazine
"By layering her own songs over these enduring masterpieces, this live album becomes affectingly powerful." – Breathecast.com
"Mighty is overflowing with soaring melodies and passionate worship that will have you singing along to every word." – NewReleaseToday.com
All songs are loaded and ready to use- just access your WorshipTeam.com system database.
The songs are full featured with complete lyrics, chord charts and full length audio. Check out these great new songs, hear them in the original key, or choose your own key and play it the way you like it.
WorshipTeam users get access to all of the songs from this album included with their subscription to our service, including the chord charts, lyrics and streamed audio. You can go in to the SONGS section immediately and access these great new songs for your worship service planning. (if you want to purchase your own downloadable copy of this audio, you can also find it separately at Amazon.com and http://amzn.to/1Kh2Ww0 )
blessings
Cody Gentes
p.s. if you have never tried out Worshipteam.com, try it FREE for one month by simply going here: http://www.worshipteam.com/try ! See you there.