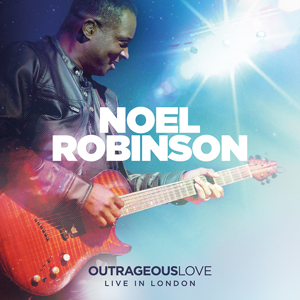 Noel Robinson has released "Outrageous Love" through Integrity Music and all songs are now loaded into WorshipTeam.com "Outrageous Love" is a live recording of some great new songs.
Integrity Music announces the North American release of Outrageous Love, the first live recording from UK-based worship leader Noel Robinson. Signed to Integrity last year, Robinson is a veteran musician known for his genre-bending, prophetic style of worship. Already a best-seller in stores throughout the United Kingdom and Europe, the 14-track Outrageous Love hits Christian retail stores in the U.S. and Canada on January 22. At that time, the project will also be available globally through any region served by iTunes and Amazon with an 18-track "Digital Deluxe" already available through iTunes in some regions.
Recorded live at House On The Rock in north London, Outrageous Love was produced by Robinson and Goziam Okogwu, mixed by the renowned John Jaszcz ("The Yoshman") known for his work with Kirk Frankin and Marvin Sapp, and mastered at Abbey Road studios. The album features cowrites with Israel Houghton ("Let The People Say"), Matt Redman ("He Holds Everything"), and Christine D'Clario ("Revival In Your Name") among others, and includes a duet with UK worship leader Lara Martin on "I Worship And Adore You."
Robinson, who also has five studio albums to his credit, describes himself as a "revivalist at heart," and his passion for spiritual revival and renewal within the larger Body of Christ and individual believers is reflected throughout Outrageous Love.
"One of the components of revival is unity, and we have successfully and intentionally brought together worshippers from different cultural expressions," says Robinson of the international and interdenominational representation found in the recording.
"We have begun to see many testimonies and incredible feedback," he continues. "So many of the songs are starting to be used in local churches… we are hoping that listeners will have a sense of the songs as powerful tools, as backdrops in their personal worship settings." All songs are loaded and ready to use- just access your WorshipTeam.com system database.
The songs are full featured with complete lyrics, chord charts and full length audio. Check out these great new songs, hear them in the original key, or choose your own key and play it the way you like it.
blessings
Cody Gentes
p.s. if you have never tried out Worshipteam.com, try it FREE for one month by simply going here: http://www.worshipteam.com/try ! See you there.