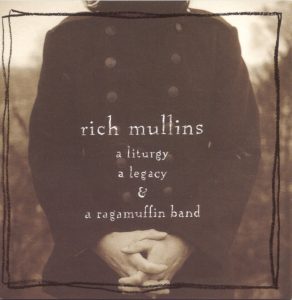 Twenty-two years ago on September 19th, Rich Mullins, a singer/songwriter/poet who contributed much to the world of Christian music, tragically died in a car accident. Writing songs such as "Awesome God," "Sing Your Praise To The Lord," and "Hold Me Jesus," his songwriting and vulnerable (and oftentimes humorous) candor in concerts were things that resonated with audiences. Perhaps even deeper, in an industry that was often about pumping out the next big hit, his music was an overflow of his life, grappling with honest yearnings in his life of faith.
Part of the legacy that Rich left us is an example of a counter-cultural life. What some may not know is that in the later years of his life he lived and taught music to kids on the Navajo reservation in northern Arizona with a friend, while continuing to tour and write and record music. Another thing that Rich did was that he had a pastoral and financial board that helped manage his finances. He insisted that he be paid whatever the median income was at the time, and even in the height of his career, he didn't know how much money he had!
This year, we wanted to remember Rich's legacy, and as a tribute, three albums of his songs are loaded and ready to use in our system database:
"Songs"
"A Liturgy, A Legacy and a Ragamuffin Band"
and "The Jesus Record"
Check out some classic songs that are fully featured with complete lyrics, chord charts and full-length audio. Take a trip down memory lane or discover this artist for the first time. You can hear the songs in their original key, or choose your own key and play it the way you like it.
Be God's (something that Rich would say),
Joel Bidderman
p.s. if you have never tried out Worshipteam.com, try it FREE for one month by simply going here: http://www.worshipteam.com/try ! See you there.