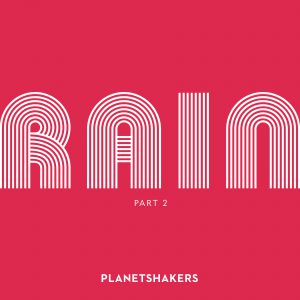 Planetshakers has released "Rain Part 2" through Venture 3 Media and all songs are now loaded into WorshipTeam.com "Rain Part 2" is a live recording of some great new songs.
"God had me write that song a week before I knew this was going to happen. It was the perfect tool God helped me to use to declare victory over the situation," says Joth, adding, "It's easy to sing these songs week-to-week, but when you are actually going through it, these lyrics become more…they become an anthem."
Hunt's story of writing "Only Way" and overcoming cancer.
Along with Hunt, both Rain Part 2 and Rain Part 1 (released in January) EPs are led by Planetshakers' worship leaders Sam Evans, Aimee Evans, BJ Pridham, Rudy Nikkerud, Chelsi Nikkerud and more. A tangible, intentional expression of worshippers collectively pursuing the presence of God, the new recordings precede the annual Planetshakers Conference launching with the "Rain" theme.
"2019 will mark the 22nd year that Planetshakers Conference has been lifting up the name of Jesus to a generation," says Planetshakers Church Sr. Pastors Russell and Sam Evans. "We feel that just as rain is formed naturally by the sun's heat evaporating water, that our prayers, praise and worship have been reaching heaven all this time. Rain forms when there is a cool change and there is a change in the atmosphere. We are believing that at this conference there will be an unprecedented outpouring of the rain of heaven."
"With over 20,000 members, Planetshakers Church is influencing the global community in profound ways through a growing reach that spans nine campuses in Australia, Europe, Singapore, South Africa and the United States," adds Joshua Brown of Planetshakers. "And with the widespread popularity of Planetshakers TV, annual conferences, and the worldwide music distribution of Planetshakers Band, millions are being impacted for eternity by the message of the Gospel."
All songs are loaded and ready to use- just access your WorshipTeam.com system database.
The songs are full featured with complete lyrics, chord charts and full length audio. Check out these great new songs, hear them in the original key, or choose your own key and play it the way you like it.
blessings
Cody Gentes
p.s. if you have never tried out Worshipteam.com, try it FREE for one month by simply going here: http://www.worshipteam.com/try ! See you there.